NATO mission not over yet in Libya
UK forces and NATO are ready to take further action if necessary under United Nations Security Council Resolution 1973, and yesterday evening…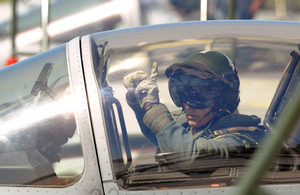 UK forces and NATO are ready to take further action if necessary under United Nations Security Council Resolution 1973, and yesterday evening in the east of Libya, near Ras Lanuf, an RAF armed reconnaissance patrol identified one of Gaddafi's remaining Grad multiple rocket launchers, and successfully engaged the vehicle with precision guided munitions.
Speaking to the media after reports emerged of Free Libya Forces taking over Colonel Gaddafi's compound in Tripoli, British Foreign Secretary William Hague said:
This is not yet an ordered or secure situation in Tripoli or other parts of Libya. It's not over yet but we are in the death throes here of a despicable regime.
There is a lesson here for others in the world that once a critical mass of people of a country set out to achieve change or bring democracy to their country, then attempts to repress that by violence will not permanently succeed.
As media speculation mounts as to whether the next stage of action in Libya would need the presence of international troops on the ground, Mr Hague added:
We're not looking at British troops being a significant part of a stabilisation operation.
At a press conference yesterday, NATO military spokesperson for Operation UNIFIED PROTECTOR Colonel Roland Lavoie said:
There's no doubt that pro-Gaddafi forces are severely eroded, losing through defections or capture, key decision-makers being expelled from strategic military positions, and most importantly losing the ability to suppress the Libyan population in a growing number of cities and villages.
The Tripoli uprising is without a doubt an historical milestone, although not yet the last chapter of the Libyan conflict. I would like to stress here that, regardless of the latest developments, our military mission has not changed.
In sum, our mission is not over yet. As Libyans are taking control of your country, what is left of the pro-Gaddafi military gave no sign that they will stop terrifying the population.
We urge them to stop, to return to their bases and to allow safe and unhindered humanitarian access to all the people in need of assistance. Until this is the case, we will carry on with our mission.
Since the start of military operations on 19 March, Royal Navy, Royal Air Force and Army Air Corps strikes have damaged or destroyed over 890 former regime targets which posed a threat to the Libyan people, ranging from secret police and intelligence headquarters to several hundred tanks, artillery pieces and armed vehicles.
Published 24 August 2011