News story
'NATO: coming home?'
Defence Secretary makes a speech ahead of the NATO Summit tomorrow.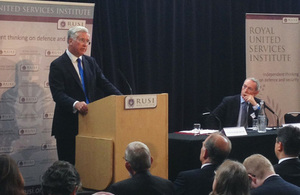 In his speech today, Defence Secretary Michael Fallon outlined a number of important issues that need to be addressed at the NATO Summit which starts tomorrow.
Mr Fallon's speech was delivered the morning after the ISIL execution of US journalist Steven Sotloff. This, he said, and 'almost daily atrocities unfolding across the Middle East', are 'threats that have evolved since NATO last focused on collective defence'.
For Mr Fallon, the upcoming NATO Summit will be an opportunity to transform and modernise the alliance to counter the ever-evolving threats we face. He said:
One thing is very clear to me. We have to modernise NATO. We all have a responsibility to help NATO modernise. And I believe this summit offers us a golden opportunity to galvanise and transform the alliance.
He then spoke about the 3 key areas to be addressed for this modernisation of NATO to be successful.
Firstly, he identified the need to sharpen NATO's decision-making processes to enable rapid deployment. He said:
We have, of course, response forces, which contain high-readiness forces, allocated by member states.

But Russian aggression has underlined the need for a faster response to any threat against any member of the alliance and to help reassure those allies on our borders who fear for their own security.
Defence spending was another important issue addressed in his speech. Viewing the summit as a platform to urge NATO allies to increase investment in national defence, Mr Fallon said that 'defence only pays out when you pay in'.
For the UK specifically, Mr Fallon said that the UK government is committed to spending 2% of the gross domestic product on defence and it will continue to do so for this parliament and through until the next spending review period.
Given the importance of investment in defence, Mr Fallon called for a robust and public pledge on spending. He said:
As well as aiming for 2%, we're also urging all allies to spend 20% of their defence budget on new equipment, research and development of capabilities. This pledge will send a powerful message that NATO means business.
He concluded with a strong message for the UK's NATO allies:
It's time now to toughen up so that NATO can deal with the aggression and the threats that we face. That means rapid reaction forces that are worthy of the name, that means better sharing of capability, and it means the first ever public commitment to increase defence spending.

This will demonstrate to all those who threaten us that the state of our transatlantic bond is strong.
Published 3 September 2014