Native crayfish relocated ahead of weir repairs
Protected native crayfish to be relocated ahead of essential weir repairs in Scarborough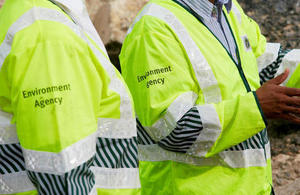 The Environment Agency is relocating native crayfish from the Sea Cut watercourse in Scarborough ahead of some repairs to the Lower Newby Weir.
A jet of water was seen shooting up from the face of the Lower Newby Weir in spring 2012 and an inspection revealed the need for repairs.
The Sea Cut was first built in the Napoleonic era following a major flood event in 1799. Over the years additional weirs have been constructed to prevent erosion of the river bed and banks. Some structures have deteriorated and a crack has now appeared on the Lower Newby Weir's face, allowing water to flow through the weir rather than over it.
The water pool above the weir, between the Lower Newby Weir and the Cascade Weir, will be drained so that the underwater structures can be checked.
Whilst the pool is drained, the old concrete sloping face on the right side of the weir will be replaced, repairs will be carried out to the side walls, the joints on the sloping face will be replaced with water-tight joints to prevent seepage and large blocks of masonry will be removed from the bottom of the pool that cause accumulation of gravel and stone in the centre of the pool.
The pool is a habitat to several different species of fish, such as trout, and eels. There are also thought to be around 100 endangered White Clawed Crayfish living there. The turbidity of the water will be tested because White Clawed Crayfish are better suited in clean, shallow water.
The White Clawed Crayfish are Britain's only native freshwater crayfish. They are significantly threatened by the invasion of the non-native Signal Crayfish. The White Clawed Crayfish are protected under Schedule 5 of the Wildlife & Countryside Act of 1981 so they are going to be safely relocated a short distance downstream during the repairs.
Ian Cooke, the project leader, said:
I am pleased to see work starting because the weir is an important structure which helps to keep the surrounding area including the Newby Bridge stable. Rain stopped work last year when we tried to undertake the repair so I am hoping for dry weather for the next few weeks.
The repairs are due to take place in early July until late August. Once the weir is fully repaired, there are plans to build a picnic area overlooking the river.
Published 30 June 2014