National taskforce to end the problem of 'beds in sheds'
A new national taskforce has been set up to tackle the issue of "beds in sheds" by taking action against criminal landlords and removing illegal immigrants.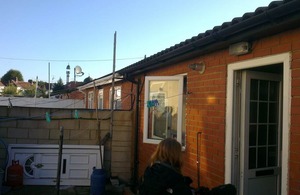 Today (30 April 2012) Housing Minister Grant Shapps and Immigration Minister Damian Green held the first in a series of cross-Whitehall summits with representatives from the police, the UK Border Agency and local government.
The meetings will find ways to close down thousands of sheds and outbuildings being rented out illegally to migrants, including some with no right to be in the UK.
These 'tenants' are being exploited by ruthless landlords who charge them extortionate rents to live in cramped conditions.
These modern day shanty towns, often visible on websites such as Google Earth, can be plagued with rats and cockroaches - and are potential death traps with dodgy wiring and poor sanitation.
Some foreign 'tenants' wish to return home but, after destroying their passports to avoid removal, find it difficult to do so quickly.
Today, Mr Shapps and Mr Green discussed:
encouraging councils to make greater use of legal powers across planning, fire safety, housing and environmental health
how to better measure the extent and nature of the problem, drawing on information collected by Whitehall and town halls
how best to ensure councils and the police share the intelligence available and enforcement activity
closer working with organisations such as the Indian High Commission to help those wanting to return home
steps to prevent more "beds in sheds" from being created
Housing Minister Grant Shapps said:
"It is a scandal that these back garden slums exist to exploit people, many of whom are prepared to return voluntarily to their home country but instead find themselves trapped into paying extortionate rents to live in these cramped conditions.
"I want to see a crackdown on these criminal landlords. So today we are launching a national taskforce, made up of the police, local councils, the UK Border Agency and HM Revenue and Customs to close down these 'beds in sheds', help those living there to be reunited with their families and ensure their so-called landlords feel the full force of the law."
Immigration Minister Damian Green said:
"Those with no right to be in the UK must leave the country. If they volunteer to leave, we will help. If they refuse, we will enforce their removal.
"The UK Border Agency will do whatever is necessary, working with local authorities and the police, to clear up this problem and enforce our laws against those who are in the UK illegally and the employers who exploit them.
"This work is well under way - many individuals have already been removed from the UK and further enforcement visits will follow."
Notes to editors
Some councils have argued that they need to have a new legal power of entry into premises without notice. However, councils already have this ability provided they obtain a magistrates' warrant - which provides a proportionate check and balance on the use of such powers.
Published 30 April 2012