National Consultation with Women event
Government Equalities Office has held its Annual National Consultation with Women, our main forum for engaging with women on gender equality.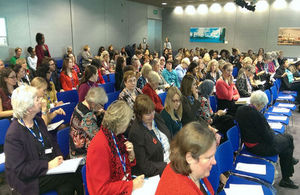 The event, on 10 November, was attended by Nicky Morgan and Jo Swinson, Ministers for Women and Equalities, and officially launched our women's engagement roadshow for 2014-15.
The theme was "Beijing+20: Accelerating Gender Equality" and discussions focused on three areas: preparations for 59th session of the Commission on the Status of Women; progress and challenges in implementing the Beijing Platform for Action; and gender equality in the post-2015 development framework. Expert speakers and panel members included government officials, academics and representatives from national and international women's organisations.
Both ministers reasserted their commitment to improving the lives of women and girls everywhere. Two of their main concerns were ending violence against women and girls in all its forms and the need to increase the economic participation of women. They highlighted some of the work government is doing to address these issues.
In her opening speech, Nicky Morgan acknowledged the invaluable role civil society plays in driving forward this agenda. The event was a great opportunity for government to learn more about the important work that women's organisations are undertaking to address gender inequality, and a chance for government and civil society to recommit to working together to drive forward this campaign.
Thanks to everyone who attended. We were delighted with the strong turn-out from civil society, and will use the valuable feedback you gave us to inform the UK's position at the 59th session of the Commission on the Status of Women (the principal global intergovernmental body dedicated to the promotion of gender equality), and more widely to help shape UK priorities on gender equality.
A special thank you to those who presented, participated in the panel discussion, and led breakout sessions on the day.
Published 15 December 2014