Myth Bust: Reports that Defra is proposing to cull buzzards
Myth Bust: Reports that Defra is proposing to cull buzzards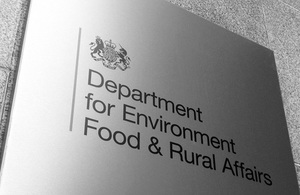 The Myth: 
There have been recent reports that Defra is proposing to cull buzzards or is about to implement a new policy to control their numbers. 
The Truth: 
Defra is absolutely not proposing to cull buzzards or any other raptors. 
We work on the basis of sound evidence.  This is why we want to find out the true extent of buzzards preying on young pheasants and how best to discourage birds that may cause damage to legitimate businesses.   This would be only in areas where there is a clear problem, using non-lethal methods including increasing protective cover for young pheasants with vegetation, diversionary feeding of buzzards, moving the birds elsewhere or destroying empty nests. The results of this scientific research will help guide our policy on this issue in the future. 
As the RSPB have said, the buzzard population has recovered wonderfully over the last few years, and we want to see this continue.
UPDATE - 30th May 2012
We've listened to public concerns, so we are stopping the planned research and developing new research proposals on buzzards.
Today, Wildlife Minister Richard Benyon said:
"In the light of the public concerns expressed in recent days, I have decided to look at developing new research proposals on buzzards.
"The success of conservation measures has seen large increases in the numbers of buzzards and other birds of prey over the last two decades.  As Minister for Wildlife I celebrate that and since 2010 we have championed many new measures to benefit wildlife across England - set out in our England Biodiversity Strategy. 
 "At the same time it is right that we make decisions on the basis of sound evidence and we do need to understand better the whole relationship between raptors, game birds and other livestock. I will collaborate with all the organisations that have an interest in this issue and will bring forward new proposals."
Published 24 May 2012