Munro Review to look at children's social work and frontline child protection practice
Details of Michael Gove's invitation to Professor Eileen Munro to hold a review into children's social work and child protection practice.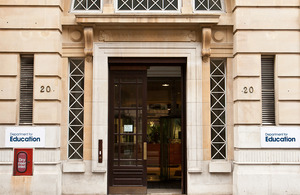 Secretary of State for Education Michael Gove has today written to Professor Eileen Munro to invite her to conduct an independent review of children's social work and frontline child protection practice. Children's Minister Tim Loughton and Professor Munro will outline this morning the broad remit and length of the review which will look at how to remove the barriers and bureaucracy which prevent social workers spending valuable time with vulnerable children.
In a letter to Professor Eileen Munro, ministers will pay tribute to the dedication and hard work of frontline professionals, but concerns remain that the child protection system in England is still not working well enough.
Tim Loughton will also write to all chairs of local safeguarding children boards, and directors of children's services to confirm that the overview report and the executive summary of all new serious case reviews (SCRs) initiated from today should be published. The presumption is that all SCRs will be appropriately redacted, anonymised and published in full except where it would affect the welfare of any surviving children and their siblings.
The government will also confirm its intention to scrap the ContactPoint database as soon as possible.
The government wants to fundamentally review the system with the question 'What helps or hinders professionals from making the best judgements and interventions they can to protect a vulnerable child?' to reform frontline social work practice. Ministers want to strengthen the profession so social workers are in a better position to make well-informed judgements, based on up-to-date evidence, in the best interests of children, free from unnecessary bureaucracy and regulation.
Ministers want Professor Munro's review to set out the obstacles preventing these improvements and the steps required to bring about improved social work practice. This should include considering how effectively children's social workers and professionals in other agencies work together. Ministers are clear that any review should be informed by the strongest systems of child protection in other countries.
Notes for editors
1. Letter from Tim Loughton - Publication of serious case review overview reports and the Munro review of child protection.
2. Terms of reference and remit letter - Munro review of child protection - .
3. Written ministerial statement on Munro review.
DfE media enquiries
Central newsdesk - for journalists 020 7783 8300
Published 10 June 2010