Munro: Child protection reforms welcomed but pace needs to be accelerated
Professor Eileen Munro: urgent cultural change in the child protection system now underway.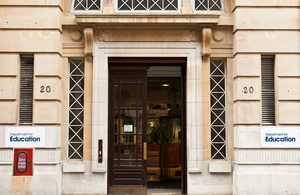 Professor Eileen Munro, author of the Government's review of the child protection system, today said a "culture change" was underway in the child protection system but outlined an urgent need to now accelerate reforms to create a more child-centred system.
She said reforms had reached a "watershed moment" but, while progress is moving in the right direction, it now needs to move faster with more prescription and bureaucracy stripped away so social workers are able to focus on giving children and young people the help they need.
Professor Munro said social workers must be confident to use their judgment instead of applying rules that do not match a specific child's needs.
Professor Munro said:
This report shows an urgent culture change in our child protection system is now underway. We are finally moving away from the defensive rule-bound culture that has been so problematic.
Reforms are rightly moving the focus of help and protection firmly onto children and young people and away from excessive bureaucratic demands.
What is particularly encouraging is that some local authorities are already developing innovative ways of working that are enhancing the quality of help received by families.
I believe there are many front line managers and social workers who now have the confidence to exercise their judgment and provide effective help, based on the individual needs of a child. However, I am concerned there are also some who are uncertain how to do this and I hope the examples of good practice that I have included in this report will lead further change.
Professor Munro highlights the following progress in her report:
The removal of fixed assessment timescales. The experience of the trial authorities who were granted exemptions from these statutory timescales has been positive. They report that the additional flexibility has encouraged better, more thoughtful working practices, and better and clearer consideration of priorities.
Ofsted's revised child protection inspection framework. This rightly focuses on the impact and effectiveness of help and protection for children, young people and their families.
The report has found many encouraging examples of services working together and with social services to provide better understanding of children's needs.
Important improvements are already being made to initial education, in selecting the right people and training the next generation of social workers.
The Government has taken steps to appoint a Chief Social Worker and local authorities are now starting to recruit Principal Social Workers to their teams.
The report calls for faster progress in the following areas:
A reduction in statutory guidance so that there is more scope for professional and local autonomy. There has been a delay in implementing these changes, due to the need for proper public consultation. Once this has been removed services should be better placed to work together to offer improved early help.
The Government needs to encourage better understanding between services as reforms take place in health and policing.
The importance of implementing all the proposed reforms together in full. Implementing these reforms as a whole will give professionals the scope and skills they require to better protect children.
Welcoming the report Children's Minister Tim Loughton said:
I am pleased to hear that our reforms are beginning to fundamentally change the child protection system and we now need to make sure they are implemented as quickly as possible. We agree the pace of reform now needs to be accelerated and are committed to creating a system that is sustainable in the long term.
This report shows progress is being made towards freeing hardworking social workers and other professionals from excessively restrictive structures, procedures and rulebooks so they can do their best for vulnerable children and their families. It is encouraging to see evidence in Professor Munro's report that services are increasingly stepping in early, rather than waiting for problems to escalate.
These reforms go to the heart of our child protection system and require a new mindset and a new relationship between central Government and local services. We are committed to keeping up momentum and doing everything we can to get the right mechanisms in place and to strengthen public confidence. But this is about putting the power of decision making back into the hands of local authorities and they all need to step up to the challenge and be strong and confident leaders who are ready to innovate.
Notes to editors
Professor Munro's report, The Progress Report: moving towards a child centred system, can be found from the publications section.
Local Safeguarding Children Board Chairs' perspectives on responding to recommendations outlined in the Munro Review of Child Protection: Findings from a national survey, can be found from the publications section.
DfE enquiries
Central newsdesk - for journalists 020 7783 8300
General enquiries - for members of the public 0370 000 2288
Published 22 May 2012