Press release
Multimillion pound boost for seaside towns
Multimillion pound boost for seaside towns to create jobs, boost the economy and create local growth.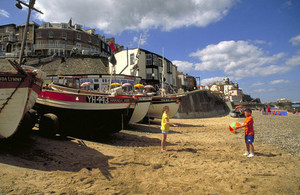 Coastal Communities Fund to be extended to 2020/2021
at least a further £90 million to unlock the economic potential of coastal communities
funding will help seaside towns revitalise areas, create jobs, and boost local economic growth
Seaside towns across the country will have a chance to bid for £90 million of government funding under measures announced by the Chancellor in yesterday's Budget (8 July 2015).
Ministers welcomed the extension of Coastal Communities Fund to 2020 as part of the government's long-term economic plan to revitalise seaside towns and unlock their economic potential.
Launched in 2012, the Coastal Communities Fund has already invested nearly £119 million on 211 projects local infrastructure and economic projects across the UK. This is helping to create almost 13,700 jobs and provide more than 10,280 training places and apprenticeships.
Communities Secretary Greg Clark said:
Britain has a proud seaside tradition which this 'one nation government' is determined to revive so they can be year-round success stories. Unlocking the economic potential of our seaside towns will create jobs, build infrastructure and boost local economic growth.

We know our multi-million Coastal Communities Fund is already having a big impact on communities and local seaside economies, and the extension of the fund will mean other areas will have the chance to bid for funding.
Coastal Communities Minister Mark Francois said:
I'm delighted our Coastal Communities Fund will continue. This government investment ensures areas can create skilled workers and year round jobs that will build stronger communities and stronger local economies.

This fund, together with the creation of our Coastal Community Teams, will be an important catalyst for change and help secure the long-term future of our seaside towns so communities can drive forward their vision, unleash business opportunities and thrive.
19 of the 39 Local Enterprise Partnerships (LEPs) are in coastal areas and as part of the government's growth deals, more than £700 million has been committed to projects in these areas to improve transport infrastructure, broadband connectivity, improving flood defences and improving opportunities for local people.
8 out of the 24 enterprise zones are in coastal areas which offer incentives for businesses to start up or expand including Business Rates relief, superfast broadband and simplified planning – with a further two prospective coastal enterprise zones in Blackpool and Plymouth announced in the March 2015 Budget. Coastal enterprise zones have delivered more than 5,300 jobs to date and helped to secure nearly £275 million of private sector investment to coastal areas.
Case studies
National Coastal Tourism Academy, Bournemouth, £2 million
In 2012, this project received £2 million to create Europe's first National Coastal Tourism Academy. The Academy delivers training support to coastal tourism businesses through virtual and personal business guidance and on-line resources, coastal tourism research and development.
It has also created a new attraction – a Coastal Activity Park – in Bournemouth, and delivered a Visitor Experience programme which includes events in and around Bournemouth.
To date the project has created 10 direct jobs and its support for 218 businesses to date is expected to deliver over 150 additional jobs. Nearly 100 vocational trainees and over 2,000 non vocational trainees have benefitted from training provided by the project.
National Lobster Hatchery, Padstow, Cornwall, £150,000
In 2012, this project received funding to enhance its stock of commercial species of European lobsters and undertake research and education programmes. It also runs a visitor centre on Padstow quayside which promotes the importance of sustainability and responsible marine management. Since receiving the grant, the Lobster Hatchery has attracted an additional 3,500 visitors taking total visitor numbers to over 8,000 a year. It also created 5 direct jobs and boosted employment within the local area with an increase in tourism expenditure creating over 16 indirect jobs.
Further information
The Coastal Communities Fund is financed by the government through revenues from the Crown Estate's marine activities. Details of future bidding arrangements will be finalised as part of the Spending Review 2015.
Office address and general enquiries
2 Marsham Street
London
SW1P 4DF
Contact form http://forms.communiti...
General enquiries: please use this number if you are a member of the public 030 3444 0000
Published 9 July 2015