News story
Multi-million pound boost for children's cycle training
More than 300,000 school children will learn to cycle safely over the next year, thanks to nearly £11 million worth of government funding.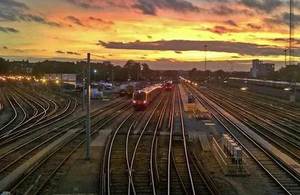 More than 300,000 school children will learn to cycle safely, competently and confidently on the road over the next year, thanks to nearly £11 million worth of government funding allocated today (11 April 2012), Norman Baker has announced.
Funding has been allocated to local highway authorities and schools across the country for the national Bikeability scheme which provides cycling proficiency for the 21st century.
As well as the £11 million of grants agreed for this year, a further £24 million will be allocated by the Department for Transport over the following 2 years. This includes an extra £2 million to support expansion of the scheme on top of money originally earmarked for Bikeability. Additional local contributions worth around £11.5 million are expected over the next three years.
Local Transport Minister Norman Baker said:
Cycling brings many benefits, and as a government we are keen to encourage its uptake as a healthy and sustainable transport choice, which eases congestion and helps cut carbon.
It is vital that the next generation of cyclists is well prepared with the skills and confidence to ride safely and well on modern roads and this funding ensures that many more thousands of children will receive the solid grounding to set them up as lifelong cyclists.
Big winners this year include Merseytravel who are receiving over £400,000, Hampshire, where children will benefit from almost £500,000 worth of training, Staffordshire receiving more than £350,000 and Kent, where total funding is over £380,000.
The department has also published a report looking at the number of children cycling to school since the introduction of the Bikeability scheme 5 years ago. In March the scheme celebrated 5 years of delivering training for children in schools.
This report shows that where there is a longer history of delivering cycle training, a higher proportion of children are cycling to secondary school. Further, those authorities that have received higher levels of Bikeability funding have seen larger increases in cycling to secondary school.
Background information
A total of £10,977,936 has been allocated by the department to those delivering Bikeability training in 2012 to 2013. A full breakdown of the allocations by local authority and school is available.
Funding was allocated according to bids received from local highways authorities and schools qualifying as school games organiser host schools.
£11 million has been allocated in each of the years 2013 to 2014 and 2014 to 2015. An additional £2 million will be shared between these 2 years to support expansion of the scheme; approximately £700,000 in 2013 to 2014 and £1.3 million in 2014 to 2015.
Related documents
News desk enquiries
Media enquiries 020 7944 3021
Out of hours media enquiries 020 7944 4292
Switchboard 0300 330 3000
Published 11 April 2012