News story
Muhammad's story
I work in vessel traffic control for the MCA and this is what a week can be like for me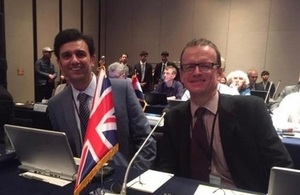 I work in Maritime & Coastguard Agency (MCA) as a vessel traffic management policy manager. As the name suggest, my job is to ensure that all vessels coming in and out of the UK are complying with the requirements of traffic routeing and vessel traffic services (VTS). This is to prevent ship collisions and groundings and as a result improving safety and environmental protection on the UK Coast.
VTS for ship is like air traffic control (ATC) for the aircraft. There are 25 VTS centres in and around the UK coast.
My job is to prepare long term policy for these. In my job, no two days are same. One day I am preparing a policy for VTS in Southampton, next day I'll be carrying out an audit of a VTS operations centre somewhere in Scotland, third day I'll be chairing a meeting of UK VTS stakeholders and fourth day I'll be carrying out an audit on a VTS training organisation (the place where all VTS operators are trained). Similarly, one week I'll be in the International Maritime Organisation (IMO) representing UK in the ship's routeing experts working group in London whereas the next week I'm in the International Association for Marine Aids to Navigation and Lighthouse Authorities (IALA) representing MCA for VTS matters in Paris. It is a very interesting job with lot of stakeholder engagement. It also require technical knowledge of maritime industry.
Published 18 July 2019