Mosimann's announced as official UK Pavilion 2015 food and drink partner
Globally renowned food business Mosimann's will run the bar and restaurant at the UK Pavilion at Milan Expo 2015.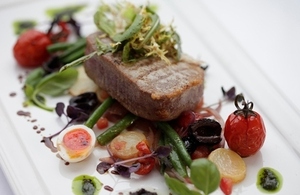 UK Trade and Investment (UKTI) minister Lord Livingston announced award-winning food business Mosimann's as official food and drink partner for the UK Pavilion at Milan Expo 2015.
20 million visitors are expected to attend the World Fair, where countries from around the world convene around a global challenge, in a cultural exchange and to promote innovation.
The Milan Expo 2015 theme is 'Feeding the Planet, Energy for Life', which aims to shine a light on food security as the world's population is predicted to reach 9 billion by 2050.
About Mosimann's
Mosimann's has a 25 year track-record of influencing British culinary tastes and holds the Royal Warrant for its world-class catering services.
The family business is led by Anton Mosimann OBE, chef for HRH Duke and Duchess of Cambridge's wedding dinner.
Mosimann's has previously catered at several high profile events including the 2008 Beijing Olympics and London 2012 Olympics, and has gained a reputation for its 'passion for excellence'.
Food and drink at the UK Pavilion
Mosimann's menu at the UK Pavilion 2015 will be sourced using the finest seasonal produce from across the UK to showcase the best of British food and drink.
Mosimann's will take a team of 60 to cater for an estimated 3,000 daily visitors at the UK Pavilion. They will use fresh seasonal produce from across the country showcasing the best of UK food and drink. Welsh lamb, English beef, Scottish salmon and Cornish crab will all feature in the menu.
Traditional afternoon tea will be served as well as take-away picnics.
Mosimann's managing director Philipp Mosimann said:
We're proud to be the official caterer for the UK Pavilion at Milan Expo 2015. This is a special event where the world comes to see what countries have to offer.

We will ensure visitors to the UK Pavilion get a taste of the best of our national produce and are excited about developing a distinctly British menu which will add to a stand-out experience for visitors to the UK Pavilion.

We're delighted to be part of the wider campaign Grown in Britain, which is the theme for UK participation at this global event.
Contact
Published 20 November 2014