News story
More volunteers to be recruited for the School Games
The Department for Education announces a £490,000 grant extension to help recruit and train School Games volunteers.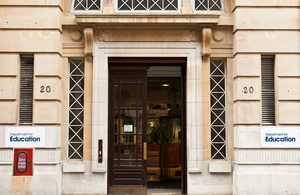 More than 1,400 extra volunteers and coaches will be recruited and trained to help deliver the School Games, DfE announced today.
Children's Minister Edward Timpson announced the volunteer leaders and coaches grant will be extended for a further year at £490,000. The grant aims to increase the quantity and quality of the volunteer workforce supporting and developing the School Games.
The Sainsbury's School Games is a national programme that aims to motivate and inspire millions of young people across the country to take part in more competitive sport. More than half of primary and secondary schools took part in 2012.
The money will be distributed through Sport England to county sports partnerships, with each receiving £10,000 to recruit, train and deploy 20 volunteer leaders and coaches to support the games - a total of 1,470 across the country. The majority of these volunteers will be young people between the ages of 16 and 25, as evidence suggests younger volunteers are more likely to continue to volunteer over time, and this gives young people the opportunity to be involved in sport once they leave school.
The announcement comes after the launch of Moving More, Living More, a cross-government strategy to increase participation in physical activity to provide an Olympic and Paralympic legacy for the nation.
Children's Minister Edward Timpson said:
I have seen just how much of a difference the School Games can make to young people and I'm delighted to announce this extension to help the programme go from strength to strength. I'm proud of this government's work to secure the Olympic legacy and I'm determined to ensure all children have the chance to play sport and keep fit at school.
Published 18 March 2014