Press release
More transparency to drive up NHS safety
Health Secretary Jeremy Hunt has published new data showing the number of NHS "never events" reported over the last two years and highlighted fresh action to improve care.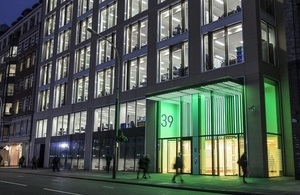 Never events are serious patient safety incidents that, by definition, should never happen. Never events include events such as surgery on the wrong part of the body, or surgical instruments being left in the body after an operation.
Following an engagement process with health professionals, royal colleges and the public in 2011, the Government tripled the number of categories that are defined as a never event from eight to 25. To increase transparency and the focus on safety, the NHS has reported on all of these categories in 2011/12. Today's data shows that over 300 never events were reported to Strategic Health Authorities over the past year. It is not possible to compare this figure with previous data as it is the first time that 17 of the categories have been reported on.
The vast majority of never events are surgical. The NHS Commissioning Board is setting up a taskforce to look at surgical never events, in order to make sure that these events are eradicated from NHS surgery. Sir Bruce Keogh, NHS Medical Director and Jane Cummings, Chief Nursing Officer, have also written to the NHS today highlighting these figures and setting out what the NHS needs to do to drive the numbers down across all areas.
Health Secretary Jeremy Hunt said:
"We know that transparency saves lives and improves care. The NHS treats a million people every 36 hours, and we know that the vast majority of these patients have excellent care. But the NHS needs to do more to really tackle these events. The NHS Commissioning Board is now setting up a taskforce to eradicate these never events from NHS surgery."
The 2011/12 data shows that 326 never events were reported to Strategic Health Authorities, with the most common types of incident being;
Retained foreign objects post-operation (161 incidents reported)
Surgery on the wrong part of the body (70 incidents)
Wrong implant or prosthesis (41 incidents)
Misplaced nasogastric tubes (23 incidents)
NHS Medical Director Sir Bruce Keogh said;
"NHS Leaders should examine these figures and the guidance that sits alongside them and really focus on driving them out of the NHS.
"There are simple ways to prevent them occurring, like the Surgical Safety Checklist, and everyone working in the NHS should ensure that the checklist is being followed."
Some never events were also reported to the National Reporting and Learning System (NRLS), and these amounted to 163 in 2011/12. This is a separate reporting system and the majority of these reports correspond to incidents also reported to the SHAs, so the totals cannot be added together. Historically the NHS has reported these incidents in different ways. This can lead to confusion and this is why the NHS Commissioning Board is also developing a single incident reporting and management system as part of its work.
Notes for editors
For more information, please contact the Department of Health press office on 0207 210 5947.
The Never Events Policy Framework can be found on the DH website.
Never Events reported to SHAs and the NRLS in 2010/11 cannot be compared with those for 2011 / 12 because the number of incidents defined as never events has increased from eight to 25.
Commissioners, through the contracts they have with providers, have the ability to recover the costs of an episode of care in which a never event occurs so that there is no cost to the public for that episode of care. In addition, the commissioner can recover the costs for any corrective procedure that is required as a result of the never event. Commissioners have the discretion to waive this cost recovery process if appropriate depending on the circumstances of the never event and the response to the event that the provider puts in place.
The table below provides a breakdown of the number and type of never event identified nationally and reported to SHAs or the National Reporting and Learning System as having occurred in 2011/12
Never Event
Number of  never events reported to SHAs 2011/12
Number of  Incidents flagged as never events in the NRLS 2011/12
Wrong site surgery
70
41
Wrong implant/prosthesis
41
15
Retained foreign object post-operation
161
86
Wrongly prepared high-risk injectable medication
0
0
Maladministration of potassium-containing solutions
<10
<10
Wrong route administration of chemotherapy
<10
0
Wrong route administration of oral/enteral treatment
<10
0
Intravenous administration of epidural medication
0
0
Maladministration of Insulin
<10
0
Overdose of midazolam during conscious sedation
<10
0
Opioid overdose of an opioid-naive Patient
0
0
Inappropriate administration of daily oral methotrexate
<10
<10
Suicide using non-collapsible rails
0
0
Escape of a transferred prisoner
<10
0
Falls from unrestricted windows
<10
<10
Entrapment in bedrails
0
0
Transfusion of ABO-incompatible blood components
<10
0
Transplantation of ABO incompatible organs as a result of error
0
0
Misplaced naso- or oro-gastric tubes
23
15
Wrong gas administered
0
0
Failure to monitor and respond to oxygen saturation
0
0
Air embolism
<10
<10
Misidentification of Patients
<10
0
Severe scalding of Patients
0
0
Maternal death due to post partum haemorrhage after elective caesarean section
0
0
Total
326
163
6.     Where records indicate fewer than 10 incidents of a certain type of never event, the exact number is not provided. This is consistent with the previous publication policy applied to never event data by the NPSA. Never events are very rare and as such reporting low numbers of a particular type incident may represent patient identifiable information when combined with other data or information. The total number of never events provided includes all incidents reported.
7.     The NRLS data was derived by carrying out a search for the term 'never events' in the free text of all the NRLS incident reports. In addition, probable never events identified from regular reviews of incidents reported to the NRLS involving severe harm or death have been included.
8.     SHA data was requested from individual SHAs. For clarity, the SHA figures are likely to be the more accurate number. SHAs will see relatively few serious incident reports compared with the million-plus incidents (of all kinds) reported to the NRLS annually which makes it easier for SHAs to identify never events in their own areas.
9.     SHA and NRLS data was accurate as of August 2012. Incidents can be discovered and reported some time after they have occurred and therefore the above data may change as additional incidents are reported. Equally, investigation of an incident may result in it being 'downgraded' and found to not be a never event. Therefore, the above data is subject to change.
 10.     Data on the number of never events reported in 2010/11, before the list of never events was expanded, is in the below table;
Never Event
Number of  never events reported to SHAs 2010/11
Number of  Incidents flagged as never events in the NRLS 2010/11
Wrong site surgery
60
19
Retained instrument post-operation
67
22
Intravenous administration of mis-selected concentrated potassium
chloride
<10
<10
Wrong route administration of chemotherapy
0
0
Inpatient suicide using non-collapsible rails
0
0
Escape from within the secure perimeter of medium or high secure
mental health services by patients who are transferred prisoners
<10
0
Misplaced naso or orogastric tube not detected prior
to use
31
11
In-hospital maternal death from post-partum haemorrhage after
elective caesarean section
<10
<10
Total
166
56
Published 29 October 2012