More than 1000 schools apply to become academies
Department for Education figures released today show that a third of all secondary schools have become or are converting to academies.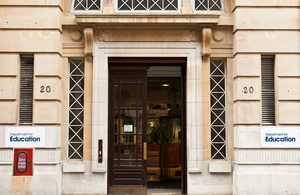 Figures released today show that more than 1,000 schools have now applied to become academies. 240 schools have applied in the last month alone.
As of today:
1070 schools have applied to be an academy since June 2010
647 of these applications have been approved
384 have already converted
a third of all secondary schools are either now academies, or in the process of becoming an academy
schools are becoming academies at a rate of two every school day
The total number of open academies, including those opened under the previous government, now stands at 658.
Outstanding schools were invited to apply for academy status from June 2010. This offer has since been extended to special schools and any other school that is performing well.
Strong schools that convert to academy status are expected to support other local schools that could benefit from improvement. So far, more than 800 schools are benefiting from this support.
Academies are free from local and national government control. They are able to focus their time and resources on meeting the needs of their pupils and school, rather than answering to local or national politicians and bureaucrats.
Education Secretary, Michael Gove, said today:
More than a thousand schools have now applied to be academies. A third of secondary schools are now either an academy or have started on the road to conversion. This represents a fundamental shift in power away from government and towards teachers. Teachers, not politicians or bureaucrats, know best how to run schools.
Schools want the freedom to decide what is best for their pupils. They want to be free to innovate in the classroom, inspiring pupils to learn. Academy status gives them that freedom and is the reason why even more schools will follow these pioneers in the following months and years.
Schools have welcomed the opportunity to become academies.
Des MacPhee of Norton College, North Yorkshire, said
We want to secure Norton College's 'outstanding practice' and be recognised as a teaching school which leads a collaborative and school-led partnership focused on school improvement. The Trust will enhance outcomes for all of its learners by using the additional flexibilities brought about by academy status.
Notes to editors
The updated list of academies and information for schools wishing to apply is available in the academies section of the Department for Education's website.
DfE enquiries
Central newsdesk - for journalists 020 7783 8300
General enquiries - for members of the public 0370 000 2288
Published 10 May 2011