More technical academies announced: at least 24 new projects planned by 2014
The Department for Education welcomes Chancellor's budget commitment for 12 new technical academies such as university technical colleges.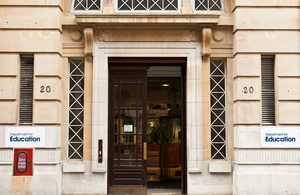 The Department for Education has welcomed Chancellor George Osborne's commitment in the Budget for an additional 12 new Technical Academies such as University Technical Colleges (UTCs).
These Academies will offer high quality vocational and technical education to give secondary pupils the skills they need and employers want.
The new money will mean at least 24 new Technical Academies will be set up across England by 2014.
These Academies will be sponsored by local businesses and local further or higher education institutions which would help set the ethos and curriculum of each Academy and provide support and work experience for students. They will have the freedom to employ lecturers and instructors working in relevant industries. Pupils will continue to study core academic subjects but will spend additional time on specialist vocational and technical training in areas such as engineering or construction. They can extend the working day for students and teachers and organise work experience with local firms.
Michael Gove MP said:
Professor Alison Wolf showed in her independent report on vocational education that thousands have been let down. There is an urgent need for more specialist Academies giving high quality technical and vocational education. The announcement today will mean many more children will have this opportunity.
Lord Kenneth Baker, co-founder of the Baker Dearing Educational Trust (BDET), said:
We are delighted that we have the backing of the Government on what we see as one of the most radical changes in education for a generation.
Mike Wright, Executive Director of Jaguar Land Rover, said:
Jaguar Land Rover welcomes the announcement by the Chancellor regarding the expansion of University Technical Colleges. It is essential for economic growth that we increase the number of young people prepared to work in engineering and manufacturing.
 Note to editors
Case Study. Pupils at the JCB Academy in Rocester, Staffordshire, will study a curriculum designed to produce the engineers and business leaders of the future. Pupils at the Academy will study a core academic curriculum, and alongside this they will focus on engineering and business. They will complete engineering tasks that have been set by JCB and other Academy partners including Rolls-Royce, Toyota and Network Rail. In their induction to the school, pupils were asked to build a speaker for an MP3 player - laser cutting and thermoforming its plastic casing, and soldering the electronic components onto a circuit board. To help and inspire pupils with their engineering studies, the Academy has been equipped with modern engineering equipment which will help them turn design ideas into reality. Among many other features, it boasts a 3D room where pupils see 3D colour animations of the projects they are designing.

Details of the Wolf Review can be found on In the News.

Further information about university technical colleges and the support on offer from the Baker Dearing Educational Trust can be found on www.utcolleges.org.
DfE enquiries
Central newsdesk - for journalists 020 7783 8300
General enquiries - for members of the public 0370 000 2288
Published 23 March 2011