Press release
More problem drinkers getting help and recovering
Latest figures show that alcohol treatment in England is performing well – with more people getting treatment and more recovering.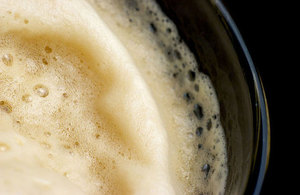 A new report published today (29 October 2014), Alcohol Treatment in England 2013 to 2014, shows that the alcohol treatment system is working well with a 5% increase in the number of people in treatment and 6% more overcoming their dependency than last year. Waiting times also continue to fall – with 93% waiting less than 3 weeks to start treatment.
Around 9 million adults drink at levels that pose some risk to their health. Of these, 1.6 million adults show some signs of dependence. Structured alcohol treatment plays a vital role along with less intensive support in preventing and reducing harm and promoting recovery.
Rosanna O'Connor, Director of Alcohol, Drugs and Tobacco at Public Health England said:
Alcohol presents complex social challenges, and tackling its devastating harm on individuals, families and communities is everyone's business. An estimated 21,500 deaths every year are alcohol-related.

It's encouraging that the treatment system is succeeding in putting people in touch with the support they need, and while increasing numbers are overcoming their dependence, there is much more to do. Reversing this harm requires collaboration across all health and care organisations. Public Health England has already made alcohol one of its priorities and we urge our partners – in local government, the NHS and across the criminal justice system – to do the same.
PHE published on 23 October 2014 its priorities for protecting and improving the nation's health. Preventing and reducing the harmful effects of alcohol is one of 7 issues we will focus on.
Ends
Notes to editors
Key findings:
114,920 people received alcohol treatment in 2013 to 2014, up from 109,683 the year before
80,929 people started treatment during the year, up from 75,773 in 2012 to 2013
despite the increase in numbers entering treatment, 93% of people waited less than 3 weeks to start treatment, up from 89% in 2012 to 2013
43,530 (59%) people successfully completed their treatment, up from 40,908 in 2012 to 2013
Public Health England's work on tackling alcohol harm will focus on the following:
helping to create environments that support lower-risk drinking, including promoting the evidence for a minimum unit price for alcohol (if set at the right level); as well as supporting Directors of Public Health to perform their role in local licensing
raising awareness among those drinking at risk and encouraging them to reduce their consumption
targeting those already experiencing alcohol related harm by promoting the availability and effectiveness of Alcohol Care Teams and Alcohol Liaison Nurses in hospital settings; and promoting effective alcohol specialist treatment services, to reduce dependency and improve recovery
Public Health England exists to protect and improve the nation's health and wellbeing, and reduce health inequalities. It does this through world-class science, knowledge and intelligence, advocacy, partnerships and the delivery of specialist public health services. PHE is an operationally autonomous executive agency of the Department of Health. www.gov.uk/phe Twitter: @PHE_uk Facebook:www.facebook.com/PublicHealthEngland
Read the full statistical materials
Annual alcohol statistics: 24-hour pre-release access (PDF, 83KB, 2 pages)
Photo courtesy mandolux under creative commons.
Public Health England press office
Skipton House, 80 London Road, London, SE1 6LH
Published 29 October 2014