More powers for communities to choose boats on water alongside bricks and mortar
Housing Minister Grant Shapps today urged local authorities not to become landlocked intheir quest to meet local housing needs - but to consider…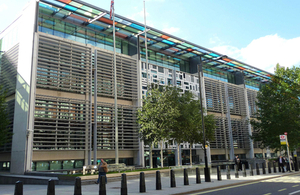 Housing Minister Grant Shapps today urged local authorities not to become landlocked intheir quest to meet local housing needs - but to consider how new powers restoring local control over housing provision and planning can enable people to choose boats on water alongside bricks and mortar.
Mr Shapps said that more people than ever are choosing to make a boat their home and that boats with residential moorings could be an example of how unconventional housing can allow people to live in areas of the country where perhaps they couldn't afford to do so otherwise.
And as new moorings could be eligible for the New Homes Bonus, the Minister said that there was a strong incentive for councils and communities to grant planning permission for more residential moorings. The money that they receive could be invested in new marina facilities or waterside recreational activities that everyone could benefit from, as well as being used to attract further private investment and drive the regeneration of the often-Brownfield land around parts of the country's waterways.
Half the population live within five miles one of Britain's waterways and so not just those living on the water could benefit from the fresh injection of funding; water based recreation and tourism is thought to generate over £1 billion for local economies, and supports 24,000 jobs.
Mr Shapps said that the Government's commitment to Localism could be an opportunity for living on boats to be given a new lease of life, and allow people to secure a residential mooring that would allow them to live closer to their jobs, family, or children's school.
Citing the inexorable shift in power down to councils and communities, he said that where boaters, councils, navigation authorities and local communities work together, they could create more residential moorings as part of the contribution to increase the housing supply in their area and house more families:
new powers in the Localism Bill restoring local control over housing, and untying the hands of communities that will allow them to find innovative ways to meet local housing need and regenerate their area
handing over control of British Waterways in England and Wales - the country's biggest navigation authority - to the voluntary sector from April 2012, giving local communities a stronger role in determining the future of their waterways
the Government's commitment to a new, simpler planning system better tailored to the needs of communities
greater transparency from councils and other public bodies on their public property ownership - including on the waterside - allowing them to identify new development opportunities.
And emphasising the need to find a mooring with residential consent before choosing to live afloat, Mr Shapps said that creating more residential long-term moorings could also help reduce the numbers resorting to unlawful overstaying on the towpath.
Grant Shapps said:
Whilst they will never overtake bricks and mortar in putting a roof over the heads of families, innovative new ways of housing families - such as residential moorings - play an important role in allowing people to live near to their place of work, children's school, or family, and where perhaps they would not be able to afford to otherwise.

Around 15,000 people live on our waterways and many more would like to do so. The Government's commitment to Localism could be an opportunity for living on boats to be given a new lease of life. Where houseboats pay council tax, communities will be eligible for the New Homes Bonus, so the potential economic benefits are huge.

Landlords, councils and communities all have a clear incentive to get more mooring sites in their areas and not become landlocked in their quest to meet local housing needs.
Sally Ash, Head of Boating at British Waterways said:
The number of people visiting and enjoying our canals and rivers has grown in recent years and this waterways renaissance has triggered strong demand from people wanting to live afloat.  We welcome the Minister's encouragement to local authorities to support the creation of purpose built residential mooring sites which we hope will help to alleviate localised congestion along the towpaths. We are also pleased to note the reassurance from Mr Shapps' department that people can qualify for housing benefit for help with mooring fees.
Alan Wildman, Chairman of the Residential Boat Owners' Association (RBOA) said:
Living afloat is arguably the most sustainable, lowest impact way to live, whilst still being able to enjoy 100 per cent of the modern amenities that are available to those who live in conventional housing.
Notes to editors
According to the Residential Boat Owners Association around 15,000 people live on boats on Britain's rivers, canals, and tidal waters.

British Waterways, the country's largest navigation authority responsible for 3,000 kms of navigable canals and rivers, estimates that it is host to around 7,000 residential boaters, but that the majority of these do not currently benefit from having a home mooring suitable for long term residential use.

British Waterways has recently published guidance for development of new residential moorings sites as an aid to local authorities and private investors, which is available at www.britishwaterways.co.uk/resimoorguidance (external link).
Twitter
Keep up to date with the Department by following us on Twitter (external link).
Media enquiries
Visit our newsroom contacts page for media enquiry contact details.
Published 27 August 2011