News story
More detailed crime information available on police.uk
The public will now have even more information about crime in their areas through the police.uk website.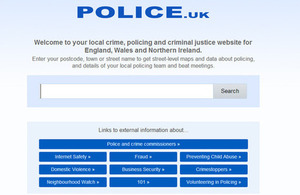 As part of ongoing work to make police.uk more transparent and user-friendly, new crime data categories including 'bicycle theft' and 'theft from the person' have been introduced to ensure the public are able to see how these types of crime affect them directly.
By providing this information the government is empowering the public to raise issues at local beat meetings, or challenge their elected police and crime commissioner, helping them to take an active role in preventing crime and antisocial behaviour in their community.
Crime categories
Damian Green, Minister of State for Policing and Criminal Justice, said:
Our crime mapping website, police.uk, has been a phenomenal success since its launch in 2011 with more than 586 million hits to date.

By continuing to make policing more accessible to the public through directly elected police and crime commissioners and crime mapping, the government is driving forward even greater transparency across the criminal justice system, reconnecting police with the communities that they serve.
Other changes made to police.uk include adding separate categories for 'public order' and 'possession of weapons.' Furthermore, 'violent crime' has been renamed 'violence and sexual offences,' making clear where these crimes are categorised.
The government is committed to driving greater transparency across the criminal justice system, whilst ensuring that the privacy of victims and witnesses is protected.
All of the data from the site is openly available through data.police.uk, which will be re-launched on 1 July 2013.
The government is encouraging developers to make full use of the underlying data to develop other products such as mobile phone apps, services or reuse this information on their own websites. Any apps built using police.uk data can be submitted at www.police.uk/apps.
Published 28 June 2013