World news story
Montenegrin Prime Minister visits NATO Headquarters
PM Milo Djukanovic met with the Secretary General and NATO Ambassadors to discuss Montenegro's progress on its Euro-Atlantic path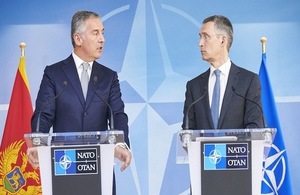 Montenegrin Prime Minister Milo Djukanovic visited NATO headquarters yesterday, to update the Alliance on reforms the country is undertaking. Djukanovic met with NATO Secretary General Jens Stoltenberg, before holding discussions with NATO Ambassadors in the North Atlantic Council (NATO's main decision making body).
Following his meeting with PM Djukanovic, Secretary General Stoltenberg welcomed Montenegro's substantial reforms, saying they represented "real progress towards membership in NATO." Stoltenberg went on to say that Montenegro was "a champion of regional cooperation", adding "you have repeatedly shown that you share our values."
At the UK hosted Wales Summit last year, NATO and Montenegro decided to open "intensified and focussed talks" as it looks to integrate further into Euro-Atlantic structures. Foreign Ministers will assess Montenegro's progress by the end of this year, with a view to deciding whether to invite the country to join NATO.
You can watch the press point with Secretary General Stoltenberg and PM Djukanovic here
Photos from the visit are available here
Want to know more about NATO's relations with Montenegro, click here
Published 16 April 2015
Last updated 16 April 2015
+ show all updates
formatted
pic added
First published.