News story
Monitoring Officers needed for OSCE mission in Ukraine
We are looking for qualified individuals available for secondments to the Special Monitoring Mission
This news article was withdrawn on
This particular recruitment campaign no longer valid.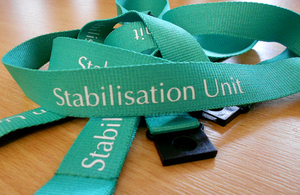 The Stabilisation Unit, on behalf of the Foreign and Commonwealth Office (FCO), is looking for applications from qualified individuals for the position of Monitoring Officer within the Organisation for Security and Cooperation in Europe (OSCE) Special Monitoring Mission (SMM) to Ukraine.
The role is to monitor and report regularly on the security situation in the area, including incidents and human rights, including gender and inter-ethnic relations, and facilitate dialogue on the ground through liaising and building relationships with international organisations, regional and local authorities and members of society.
All posts are secondments to the OSCE. They require formal nomination by the relevant UK authorities, which in this case is the OSCE desk at FCO in London. In order to be sponsored by the FCO, you will require UK citizenship. Please note that these are not Civil Service jobs; if successful, Civil Servants will be expected to take Special Unpaid Leave in order to accept a seconded post.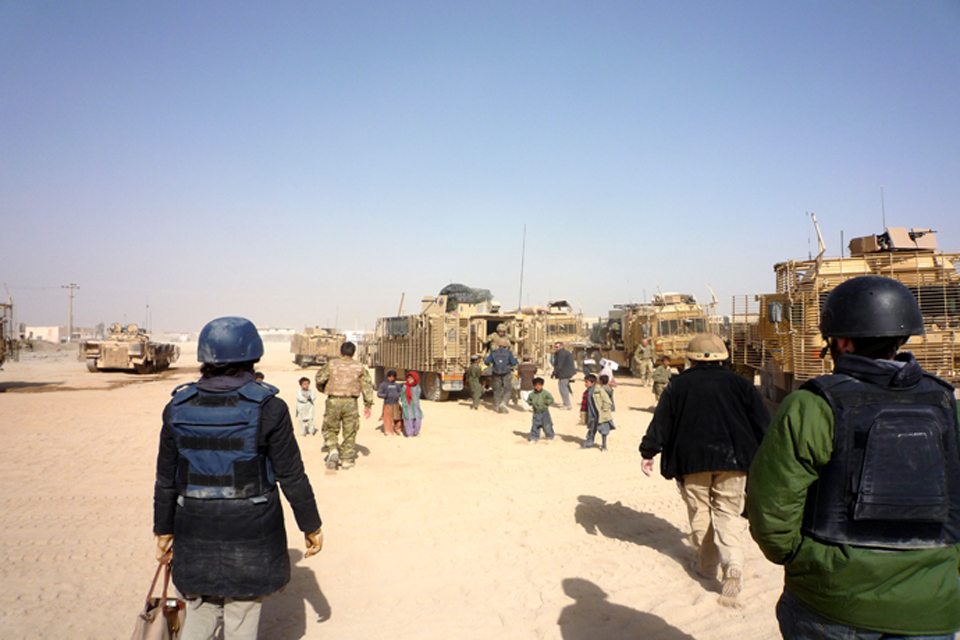 General Minimum Requirements
Minimum six years of relevant professional experience
Advanced degree in relevant field
Excellent physical condition
Possession of a valid automobile driving license and ability to drive using manual transmission
Ability to cope with physical hardship and willingness to work extra hours and in an environment with limited infrastructure
Specific Skills and Experience Required
Demonstrable organisational skills
Proven ability to communicate effectively, both orally and in writing
Demonstrable interpersonal skills and documented experience in negotiations
Depending on the field activity's mandate, significant prior experience in relevant fields such as international customs practices and procedures, law enforcement, and military observations and arms control may also be required
Negotiating experience, preferably in the area of monitoring operations and/or related activities
Additionally, this particular post has specific mandatory requirements:
Several years of progressively responsible professional experience in an operational environment
Significant prior experience in any of the following fields: political and security issues, including gender, law enforcement, military, ceasefire and border monitoring, disarmament, demobilization and re-integration, dialogue facilitation, human rights, fundamental freedoms and minority issues
Ability to establish contact and constructive relations with local population and officials
Physically and mentally fit to work in arduous and hazardous environment
Working knowledge of English, both oral and written, and the ability to communicate clearly and concisely
Demonstrate conflict sensitivity and apply the principles of Do No Harm
Cultural sensitivity and political judgment
Demonstrated ability and willingness to work as a member of a team with people of different cultural and religious backgrounds, different gender, and diverse political views, while maintaining impartiality and objectivity
Ability to operate Windows applications including word processing and email
Desirable requirements include:
A good understanding of the OSCE or international missons
Regional knowledge and experience
Excellent working knowledge of English and preferably local language (Ukranian and/or Russian)
Please see the OSCE website for further information and a detailed job description.
Salary, Terms and Conditions
In general the FCO does not pay a salary to UK secondees to the OSCE. However, in view of the importance that we place on the Mission to Ukraine, we are offering a salary of £44,154.40 pro-rata (£3,679.53per month). Although this is not a Civil Service post, it has been assessed as equivalent to an SEO grade. Applications are welcome from all Civil Service grades who meet the criteria as set out above.
The FCO will not pay pension or any further allowances and the salary is non-negotiable. All secondees to OSCE Field Missions additionally receive a daily Board and Lodging Allowance when they are in Ukraine. This is currently set at €125 per day. Terms and conditions, including leave, travel, and insurance, are set by the OSCE directly and can be found here. The Stabilisation Unit will also provide short pre-deployment training.
Please note that the FCO also requires successful completion of a UK Government -recognised bespoke hostile environment training course and medical clearance from Interhealth before deployment.
How to apply
All applicants must meet the mandatory requirements to be considered for the role of Monitoring Officer. Please refer to the following guidelines for further advice on completing an application.
Applications should be made online via the OSCE website.
If you have not previously done so, you will be required to register as a new user. Once you have completed your application and submitted it as per the online instructions, your form will automatically be passed to the OSCE desk in London who will formally nominate UK nationals who apply for OSCE secondments.
The UK will only nominate individuals who possess strong evidence of the above attributes.
This vacancy notice has been previously advertised, with revision to its content. Therefore, candidates who have applied or were nominated for this post, Monitoring Officer (OSCE vacancy number: VNUKRS00171) are still under consideration and will not need to re-apply.
The OSCE is advertising these posts with a final deadline of 31st December 2014. However, please be aware that recruitment is done on a rolling basis and that the OSCE request applicants to be available for immediate deployment.
For any enquiries, please contact SURecruitment@stabilisationunit.gov.uk
Closing date: 31st December 2014
Published 22 October 2014