News story
Monitor names team of experts to help fix problems at Tameside Hospital
The health regulator has chosen PwC to supply the team that will help find a long term solution for patients of Tameside Hospital NHS Foundation Trust.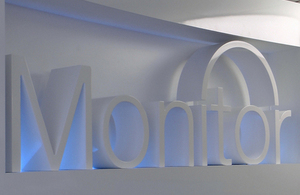 Following a rigorous procurement process, PwC has been selected to test and develop a locally-generated idea of fully integrating healthcare services for the local population, bringing health and social care services together in a radical new approach.
Starting in November, PwC will work with the trust, local commissioners, clinicians and patients to confirm whether this is the best solution for the trust and, if not, work out what is. They will also help to plan the best way to implement the right solution.
Paul Chandler, Regional Director at Monitor, said:
Patients in Tameside deserve to get quality, sustainable care, and we are now one step closer in helping the trust to provide this. Working with local people, staff and the healthcare system, PwC will help pioneer this new approach and find the best solution for Tameside Hospital.

The cost of up to £2 million will be funded by Monitor, as part of its commitment to make the health sector work better for patients.
In September Monitor announced the decision to take action at the trust, because it is facing challenges providing acceptable levels of care and is financially unsustainable in its current form.
Published 5 November 2014