News story
Modern slavery white paper published
A flagship Bill to tackle modern slavery, the first of its kind in Europe, was published today by the Home Secretary Theresa May.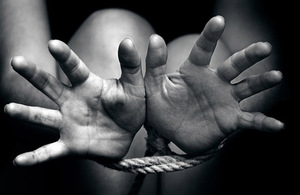 The draft legislation forms part of a government White Paper setting out action needed to eradicate slavery from the UK. It will be subject to pre-legislative scrutiny with the aim of publishing a Bill in the spring that could be passed and on the statute books by the end of the parliament.
But the Home Secretary warned that slavery is not a problem that can be solved quickly or by legislation alone. It will require a considered and concerted response based on a clearer understanding of the nature and extent of the modern slave trade and challenges and complexities involved.
Modern slavery
The Home Secretary was speaking at a joint launch event with the Rt Hon Frank Field MP, whom she asked to lead a series of evidence sessions over the autumn. His resulting report, also published today, will inform both the pre-legislative scrutiny process for the Modern Slavery Bill and the government's wider, longer-term response to slavery.
Home Secretary Theresa May said:
Slavery has no place in Britain. It is an affront to the dignity and humanity of us all, and it is the responsibility of us all to help stamp it out.

The best way to protect and reduce the number of victims is to disrupt and imprison the organised criminal gangs behind much of the modern slave trade.

Today's draft Bill is an important start. If we all work to ensure the provisions within it are as focused and targeted as possible, we will have a Modern Slavery Act in this parliament which can be built on by future governments.

But legislation is only part of the answer. It also requires tireless and coordinated effort across government and law enforcement, work with other countries to tackle the problem at source, and increased awareness within all communities, including the business community, across the UK.

I therefore intend to publish a Modern Slavery Action Plan in the spring, which will set out a comprehensive response to this complex crime.

I am very grateful to Frank Field, Baroness Butler-Sloss and a host of others for their hard work and determination to shine a light on this appalling crime and challenge us all to act. Now is the time to rise to that challenge.
Tackling slavery
The draft Bill sets out provisions to:
Consolidate and simplify existing slavery and trafficking offences to provide clarity and focus when investigating and prosecuting traffickers
Increase the maximum sentence available from 14 years to life imprisonment so that offenders receive the punishments they deserve
Introduce Slavery and Trafficking Prevention Orders (STPOs) and Slavery and Trafficking Risk Orders (STROs) to restrict the activity of those who pose a risk and those convicted of slavery and trafficking offences so they cannot cause further harm
Create a new Anti-Slavery Commissioner role to galvanise law enforcement efforts to tackle modern slavery; and
Establish a legal duty to report potential victims of trafficking to the National Crime Agency (NCA) to build a clearer picture of the nature of this hidden crime.
Action is already being taken on a number of fronts, including training and guidance for front line staff such as the police, border officers, asylum case workers and health workers, to improve the way potential victims are identified and supported. Tackling slavery is a key component of the Serious and Organised Crime Strategy, published by the Home Office in October, and a priority for the newly formed National Crime Agency.
The Home Secretary announced earlier this month that a new Modern Slavery Unit had been established in the Home Office to ensure a co-ordinated approach and the operation of the National Referral Mechanism (NRM) will be reviewed to make sure it is operating as effectively and supportively as possible. The NRM is a framework for identifying victims of human trafficking and ensuring they receive the appropriate protection and support.
Published 16 December 2013