MOD brews up for Service charity
MOD bases across the UK are taking part in 'The Big Brew Up' this week to raise much-needed funds for the Soldiers, Sailors, Airmen and Families Association (SSAFA).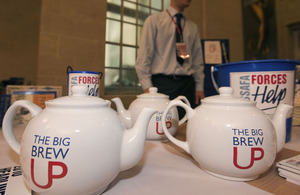 Between 3 and 9 October 2011, people in offices across Britain are getting the kettle on and organising tea parties to raise cash for SSAFA Forces Help. The annual event is a lucrative fundraiser for the military charity that helps and supports those serving in the Armed Forces and their families.
The MOD's Main Building Big Brew Up event in London took place this morning and Armed Forces Minister Nick Harvey dropped in to lend his support. He said:
The Government takes very seriously our duty of care to Armed Forces personnel throughout their career and, indeed, afterwards. But that duty of care goes beyond government. It's a duty of care that the whole of society owes to the Armed Forces as well.
The Armed Forces increasingly in recent years have enjoyed people's support and respect not only because of the difficult and dangerous job they do but also for who they are and the values they represent.
It is through generous support to organisations like SSAFA and events like The Big Brew Up that people can show how grateful they are for the selfless commitment shown by our Armed Forces.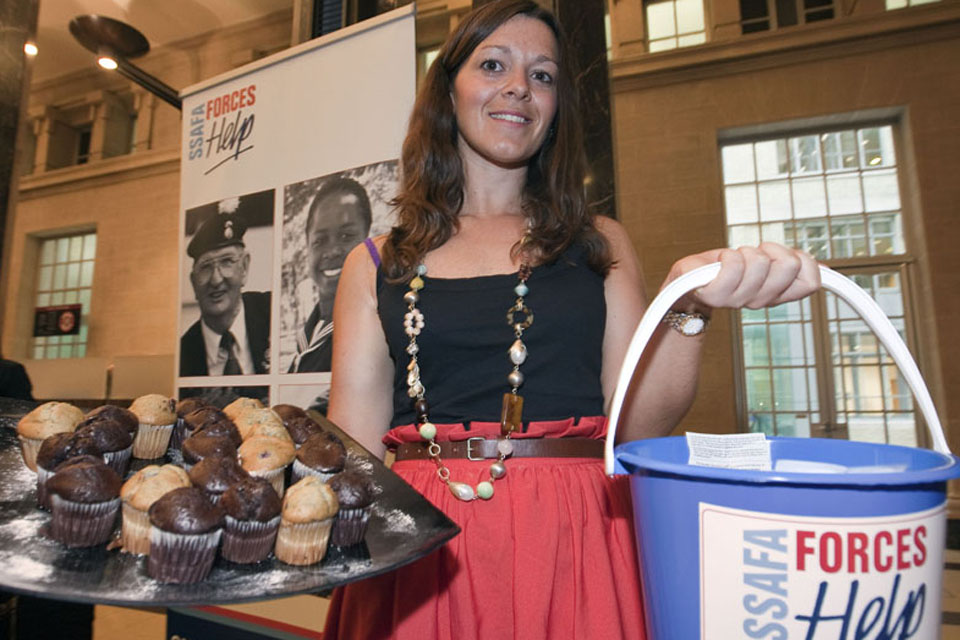 SSAFA officials said they hoped to exceed the previous year's fundraising total of around £800.
Serving at the Main Building event, SSAFA tea lady Laurena Dibello said:
Every year we get tremendous support and everyone comes down and enjoys a cup of tea for SSAFA, donating whatever spare change they have - every penny counts.
Ahead of the event, SSAFA said the aim was to bring colleagues together for an old-fashioned cuppa. In Main Building, hundreds of staff broke away from their desks for a few moments, keen to do their bit for charity. One of them, Major Oliver Dobson, said:
I think it's a very worthwhile cause and I've just popped down for a coffee. All my office are coming down at one stage.
Over two hours, staff served up hundreds of cups of tea and coffee and cake generously donated by caterers ESS. They sold SSAFA merchandise alongside books, with all proceeds going to the charity.
Paul Branscombe, Deputy Controller of SSAFA, accompanied by his successor, Julie Quinn, said:
We hope to raise as much money as we possibly can, but MOD folk are always surprisingly generous.
There was no shortage of thirsty patrons, including colleagues Marion Horne and Jenny Dowling from Defence Civilian Personnel who were eager to sample the tea and cakes. Marion said:
This [event] is why we work for the MOD to support our lads and their families.
Next to visit the tea table were Adam Forgiel-Jenkins, Alan Nisbet and Wing Commander Jez Milne. Adam, who works for Minister Gerald Howarth, said:
I work for Gerald Howarth who is very supportive of SSAFA. It's a good opportunity to come down and holding the event here makes it accessible for everyone.
It's a good, fun way to support a charity who do a lot to support our guys who are away.
Armed Forces Minister Mr Harvey expressed his appreciation for the vital work carried out by SSAFA on behalf of troops, families and veterans that ranges from the practical to the emotional.
Now in its 14th year, The Big Brew Up raised £100,000 last year. Mr Harvey said:
We all hope it is even bigger and better this year.
Published 4 October 2011