News story
MOD and Royal Mail sign new agreement to keep personnel connected
Overseas service personnel will continue to be able to keep in touch with friends and family at affordable rates under the new agreement.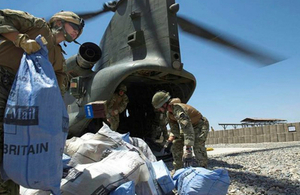 Service personnel posted overseas will continue to be able to keep in touch with friends and family at affordable rates under today's new agreement between the British Forces Post Office (BFPO) and Royal Mail.
Lieutenant General Paul Jaques CBE, Chief of Materiel (Land) for Defence Equipment and Support (DE&S), the procurement organisation for the Ministry of Defence (MOD), today signed an £11 million agreement with Royal Mail to continue to provide the carriage of mail to and from service personnel based overseas.
The agreement, which reaffirms the relationship between Royal Mail and the BFPO, will help military personnel to keep in touch with family and friends back in the UK, wherever they are in the world.
In accordance with the Armed Forces Covenant, sending mail to personnel overseas will remain at inland UK prices. For Service men and women on operations, the vital service of keeping in touch with home will remain free.
Lieutenant General Jaques signed the Forces Mail Settlement on behalf of the Ministry of Defence during a visit to the BFPO Head Office at Royal Air Force (RAF) Northolt. He said:
There is nothing like getting a letter from back home, whether you're a few hours away or on the other side of the world.

This deal will ensure that friends and family members can continue to support our troops with letters, parcels and packages, without incurring extra postage costs.

It is crucial that Service personnel, who work so hard to keep Britain safe, both at home and abroad, have the support of agreements like this one between Government and Royal Mail as part of the Armed Forces Covenant.
Forces Post Offices based all over the world handle service personnel's mail while it is overseas, with the Royal Mail taking over its handling when it reaches the UK, whether at the beginning or end of its journey.
The Forces Mail Settlement, in place from today until March 2020, sees the BFPO receive a percentage of the cost of postage for the letters and parcels it handles from Royal Mail.
The Royal Mail also pays half the costs of the Enduring Families Free Mail Service, which allows relatives and friends within the UK or at BFPO addresses to send letters and small parcels to military personnel on operations overseas for free.
Mike Newnham, Royal Mail's Chief Customer Officer, said:
Royal Mail is delighted that its long standing contract with the British Forces Post Office is continuing. We are proud to play our part in delivering mail to our armed forces stationed around the world.
2016 marks the 500th year of the Royal Mail and the continuing Centenary of the First World War, during which BFPO delivered 2 billion letters. You can read some of the letters from the period on the Imperial War Museum website
Published 23 March 2016