News story
MMO announces the next phase of the EMFF scheme in England
MMO delighted to confirm plans for selecting new Fisheries Local Action Groups (FLAGs) and for the first EMFF panel for projects over £100,000.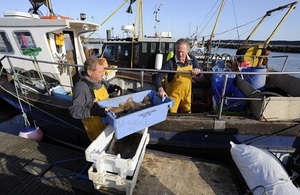 New FLAGs
The EMFF scheme in England provides a budget of €6.4m (£4.9m) to fund up to six FLAGs to support community-led local development in fisheries communities. The key focus of successful EMFF FLAGs is to support their area to adapt to the reformed Common Fisheries Policy (CFP) and to maximise economic growth opportunities within the fisheries and aquaculture sectors.
To be successfully selected as a FLAG, the first step is for groups to submit an Expression of Interest. Those interested in becoming a FLAG are encouraged to visit the MMO website for further information and to submit an expression of interest before the deadline of 4 March 2016. An event for potential FLAGs is being held in London on 24 February 2016, details and registration information is available on the MMO website.
Potential new FLAGs who are successful at the Expression of Interest Stage, will then be invited to develop a Local Development Strategy which further details they key issues and needs in the local area.
Michelle Willis (MMO, Chief Finance Officer) said:
"This is a very exciting time for the EMFF scheme in England. We are looking forward to working with new potential FLAGs to select those who can deliver the greatest benefits to local fisheries and aquaculture communities."
The first EMFF Assessment Panel for applications £100,000 and over.
The MMO will be holding a panel to consider EMFF applications for projects costing £100,000 and over. The panel will meet week commencing 6 June 2016. The applications to be assessed in the panel must be submitted to MMO by 29 March 2016. Any project applications costing £100,000 and over received after this date will not be assessed in the June panel. Applications of less than £100,000 will continue to be assessed on a regular basis and are not affected by these deadlines. Further panels to consider large projects with deadlines for submitting applications will be announced in due course.
Michelle also commented: "Setting the date for our first Panel is a key step in the ongoing management of this new scheme. We have received a lot of interest in the EMFF scheme over the last two weeks which is really encouraging. I would urge applicants to continue to use the guidance on our website before submitting applications and supporting documentation. Taking the time to check your application really helps speed up the process and get you a decision as quickly as possible."
Published 1 February 2016
Last updated 12 February 2016
+ show all updates
Text changed
First published.