Mitchell welcomes Oxfam's Niger appeal
Oxfam today launched a £7 million emergency appeal to help more than 800,000 of the most vulnerable people across West Africa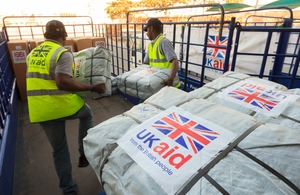 Oxfam today launched a £7 million emergency appeal to help more than 800,000 of the most vulnerable people across West Africa who are facing severe hunger and malnutrition because of drought, poor harvests and rising food prices.
Secretary of State for International Development Andrew Mitchell said:
I am deeply concerned by the situation in Niger and Chad. The current humanitarian crisis has left millions of people without enough food to eat and thousands of children at risk of malnutrition.

Oxfam is working to deliver vital aid to those who need it most but they do not have enough funding to meet all the needs. Britain has provided £15 million to help deliver emergency food aid and treatment for malnourished children and I urge other donors to respond generously.
Worsening conditions in the Sahel region of West Africa - a semi-arid belt which stretches across the southern Sahara - have seen malnutrition rates soar as families struggle to find enough food to eat. Niger - the world's least developed country - is at the centre of the crisis, with more than seven million people, almost half the population, facing food insecurity.
Published 21 June 2010