Mitchell: Aid to work harder for Afghanistan
International Development Secretary of State Andrew Mitchell has announced that aid to Afghanistan and Pakistan needs to to get higher priority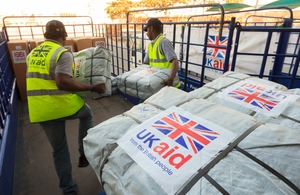 International Development Secretary of State Andrew Mitchell has announced that aid to Afghanistan and Pakistan needs to get higher priority at the Department of International Development and that this needs to be more closely integrated with work on stabilisation. The announcement comes as he visits Afghanistan alongside the Foreign Secretary, William Hague, and the Defence Secretary, Dr Liam Fox, to take stock of the UK's Afghanistan strategy.    
In response to these priorities, the Permanent Secretary (Minouche Shafik) has appointed a Western Asia and Stabilisation Director with responsibility for Afghanistan, Pakistan and Stabilisation. This has been done so that more senior time is devoted to the high priority areas of Pakistan, Afghanistan and Stabilisation. This change will also allow the Department for International Development to work more closely with colleagues in the Ministry of Defence and the Foreign and Commonwealth Office on Afghanistan, Pakistan and stabilisation.
The Secretary of State said:
These appointments reflect the need to see the UK's aid work harder in countries such as Afghanistan and Pakistan in order to bring about stability. It is our duty to ensure that aid plays as full a part as possible in countries where conflict is halting progress and leaving people without water, electricity and schooling.   

Following 30 years of conflict, Afghanistan is one of the poorest countries in the world with half of its 25 million people living below the international poverty line and 40% with not enough to eat. These new appointments will enable the department to give greater resource to creating jobs and encourage economic growth, bringing more stability to Helmand, provide alternatives to poppy growing and making the government more effective.
Published 23 May 2010