News story
Ministry of Justice supports almost 1,000 victims of trafficking
To mark Anti-Slavery Day Victims' Minister Damian Green met victims of human trafficking at a safe house in London.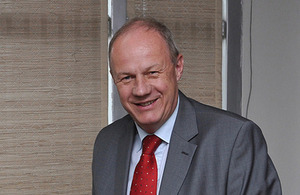 The Ministry of Justice and Home Office provided £3million last year to support victims of human trafficking to recover and move on with their lives. Since July 2011 the Salvation Army, which holds the government contract to support both male and female victims of human trafficking, has supported almost 1,000 victims.
These men and women come from over 43 different countries but the Salvation Army has also supported 14 British nationals.
Victims' Minister Damian Green said:
"The trafficking of vulnerable men and women is something that no civilised country should tolerate. On Anti-Slavery Day I am proud that this Government is standing strong against those who profit from human misery and last year gave £3 million to support to those who have suffered at their hands."
Anti-Slavery day aims to:
Urge victims to seek support
Reach victims at risk of exploitation
Encourage victims to speak out.
The national day was created as an act of Parliament to raise awareness of slavery including forced labour, domestic servitude and trafficking.
Published 18 October 2013