News story
Ministers write to universities and colleges encouraging all students to register to vote (Archived)
Skills Minister Nick Boles and Universities Minister Jo Johnson have written to college and university leaders asking for their support in encouraging all students to register to vote.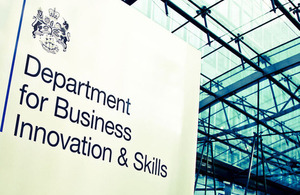 With the deadline for voter registrations set for 7 June, young people across the country are being urged to make sure their voice is heard in this once in a generation vote by ensuring they are registered.
Universities and Science Minister Jo Johnson:
Young people are going to be some of the hardest hit if we vote to leave the EU - from the places they'll be able to study to the job prospects they'll face in the future. So now is the time to stand up and be counted.

That is why I have written to all university vice chancellors today urging them to get the message out to their students: register to vote, it's easy to do online, and will ensure you can have your say in this once-in-a-generation vote.
Skills Minister Nick Boles:
On 23 June every British citizen of voting age will face one of the biggest decisions of their lives: whether to remain in the EU or leave.

Your students have bright futures ahead of them, and they should have their say in this crucial decision. I want all of us in the further education and sixth form community to do everything we can to encourage those eligible to register to vote.
Registering to vote is easy and can be done online on GOV.UK in just a few minutes. You will need to provide your:
National Insurance number
date of birth
address
To vote in the EU referendum you will need to register to vote by midnight 7 June 2016. If you can't vote in person on the day you can apply online for a postal vote. Students can also register at the address where they will be living on 23 June if this is different to their term time address.
Published 14 April 2016