Ministers talk Big Society with faith leaders
Communities ministers attend a meeting of religious leaders to discuss the Big Society.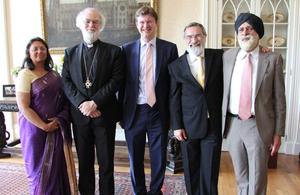 Communities Secretary Eric Pickles and Minister for Decentralisation, Greg Clark, attended a meeting of religious leaders to discuss the ways in which faith communities can get involved in building the Big Society.
Hosted by the Archbishop of Canterbury, the meeting at Lambeth Palace on Friday (16 July 2010) was an opportunity for the leaders of the main faiths to discuss with government ministers the role of faith groups in helping to strengthen communities.
Mr Pickles said:
"We see the Big Society as a very practical way to put people in control of the decisions that affect them and to encourage everyone to take an active part in civic life.
"For years, faith communities have been quietly making a huge difference day-in and day-out, to every single neighbourhood in the country - something that has not been sufficiently recognised by central Government. Today has been an opportunity to do so and to explore how, in realising our ambitions for a Big Society, we can together build on the huge amount of experience faith groups have in getting out into the community.
"Some see religion as a problem that needs to be solved. The new government sees it as part of the solution. I want to send an important signal that we value the role of religion and faith in public life. The days of the state trying to suppress Christianity and other faiths are over."
Dr Clark commented:
"Faith communities make a vital contribution to national life: guiding the moral outlook of many, inspiring great numbers of people to public service, providing support to those in need. A 'community of communities', they often have the experience, volunteers and connections that can put them at the heart of their neighbourhood.
"Everyone has a part to play in building the Big Society. The government's job is to make sure that religious groups and other grass roots organisations have the space in which to get on with their good work, unhindered by the barriers many of them currently negotiate."
Today, the Prime Minister has fleshed out plans for developing the Big Society with the announcement of a Big Society Bank along with 4 areas - Liverpool, Sutton, Windsor and Maidenhead and the Eden Valley in Cumbria - who will lead the way in building the Big Society.
(Photograph above courtesy of Lambeth Palace).
Published 19 July 2010