Ministers take next steps towards fairer social housing
Housing Minister Grant Shapps and Communities Minister Andrew Stunell have today taken the next steps towards the biggest reforms to social …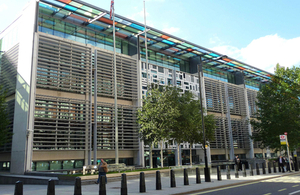 Housing Minister Grant Shapps and Communities Minister Andrew Stunell have today taken the next steps towards the biggest reforms to social housing for a generation, moving power from Whitehall to town halls to help the millions of families left languishing on waiting lists.
Ministers have today set out proposals for how all social landlords will be required to show how their tenancy plans will provide for and protect the most vulnerable, including families with children. In these further details of reforms published today, Ministers also outlined the extra freedom from central control that councils will be given, so they can target help on the people in their communities who need it most.
Ministers also confirmed that all tenants will have access to a National Home Swap Scheme, making it easier for them to move should their situation change.
Despite £17billion spent on social housing over the past 13 years, the numbers of people on waiting lists has doubled to nearly five million. Ministers believe this is because the centrally-controlled system gives councils and housing associations little room to find innovative and creative solutions to their local housing problems.
Instead, the Localism Bill currently before Parliament will give landlords the option to offer flexible tenancies, and will give councils greater control over allocating their social homes, so this valuable resource is available to those who need it most, when they need it. Councils will continue to publish their policies on how social housing is allocated - showing how priority will continue to go to people in greatest need. All social landlords will be required to publish their policies on issuing different tenancies - including how they plan to meet their responsibility to make necessary provisions for the needs of the most vulnerable families.
Ministers have carefully considered the balance between central prescription of the lengths of tenancies available and local flexibility, and propose that a two-year minimum tenancy should still be available for landlords to offer - but in the vast majority of cases, they expect longer term tenancies to be offered - particularly for vulnerable households or those with children.
Existing tenants will not see their rights or rents affected by these far-reaching reforms. However, under ministers' plans, all tenants will benefit from national home swap services, giving tenants greater opportunities to move home if they want to - whether for work, to be closer to family or to a property better suited to their needs.
Housing Minister Grant Shapps said:
Over the past 13 years a lazy consensus in social housing meant the numbers of people left languishing on waiting lists almost doubled. We cannot sit idly by and watch as people simply join the back of the queue - urgent reform is needed to make sure as many people as possible benefit from the support that social housing offers.

This new system will be fairer and more flexible, ensuring the most vulnerable in our society continue to be protected, while giving councils the freedom to offer fixed tenancies to new tenants so they can give help where and when it's needed for as long as it's needed.

And while existing tenants will see no changes to their tenancy agreements, they will no longer be trapped in homes that no longer suit their situation, but will have much greater opportunities to move if they want to.
Communities Minister Andrew Stunell said:
It's clear that sticking to the status quo will not help the millions of families stuck on social housing waiting lists across the country, nor the hundreds of thousands of families forced to suffer homes that no longer meet their needs. Far-reaching reform is long overdue.

That's why today we can confirm how, through the Localism Bill, landlords will be given much more room for manoeuvre, to meet local housing demand - while at the same time making sure that the most vulnerable in society continue to be protected.

These changes will lead to a much smarter system, one led not from Whitehall but from the Town Halls by people who know the housing issues that their local communities face, and who will finally be able to make the changes they know are needed to tackle them.
Today's announcement follows a consultation on social housing reforms launched in November. The Government received almost 700 responses from landlords, housing organisations, tenants and members of the public.
Around two thirds of the local authorities responding to the consultation welcomed plans to give them extra freedoms to manage their waiting lists, and two thirds of social landlords said they plan to use the new flexibility to offer fixed tenancies.
Key reforms include:
Flexible tenure - Landlords will be given the freedom to offer their properties under fixed term tenancies, from a minimum of two years, subject to consulting on a publishing a clear policy on how they will use their new flexibility on tenancies. The Government has today set out, in the light of consultation, more details about what landlord policies should contain, including protections for the vulnerable and existing tenants.
Fairer allocations - Under the Localism Bill, councils will have a new power to determine who qualifies to join their waiting list. Existing tenants looking to move house will no longer have to compete with those on the waiting list unless they have 'reasonable preference', giving councils and housing associations the flexibility to work with tenants who want, rather than need, to move.
Greater mobility - The Government plans to press ahead with a National Home Swap Scheme, making it easier for tenants who want to move to find someone in a similar position to exchange properties with. Landlords will be required to subscribe to Internet-based mutual exchange services, giving tenants access to as many properties as possible. In addition, Ministers plan to launch vanguard projects to trial innovative schemes to promote mobility still further: more details will be published later this year.
Fairer provision for homeless people - there will be greater flexibility for councils to make decisions on how best to help people at risk of homelessness at the local level. Currently some homeless families are turning down the decent private rented accommodation they've been offered as a settled home, and demanding to be provided with expensive temporary accommodation, at huge cost to the taxpayer, until a social home becomes available. Councils will be able to offer flexible solutions to people at risk of homelessness. Despite tight public finances, the Government will be investing £400million to prevent homelessness and rough sleeping.
Affordable Rents - a new 'Affordable Rent' tenancy will be offered by housing associations to some new tenants of social housing from April 2011. Affordable Rent properties will offer fixed term tenancies at a rent higher than social rent - with landlords able to set rents at up to 80 per cent of local market rents. This will enable landlords to raise funds to build more affordable housing for those who need it. The Government is investing £4.5billion in new affordable homes over the Spending Review period, which combined with the reform of social housing should deliver up to 150,000 new homes over the next four years.
New tenants power of scrutiny - Grant Shapps has announced plans for the abolition of the Tenant Services Authority, and instead to give England's eight million social housing tenants strengthened powers to ensure that their landlords provide quality housing and are held to account when problems arise. Landlords will be expected to support tenant panels - or equivalent bodies - in order to give tenants the opportunity to scrutinise the services being offered and to be involved in resolving disputes. These changes will be made as part of the forthcoming Localism Bill.
Related publications
Published: 28 February 2011
Site: Housing
Twitter
Keep up to date with the Department by following us on Twitter (external link).
Media enquiries
Visit our newsroom contacts page for media enquiry contact details.
Published 28 February 2011