Ministers share concerns on Africa
Henry Bellingham discusses developments in Africa with Holy See Foreign Minister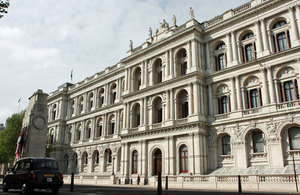 Henry Bellingham MP
On Monday 2 July 2012 Minister for Africa, Henry Bellingham MP, made an official visit to the Vatican. Mr Bellingham, who is responsible for African affairs, met the Holy See's Secretary for Relations with States, Archbishop Dominique Mamberti. The Ministers exchanged impressions on their respective visits to Africa in recent months, and discussed issues of common concern, including the upsurge of violence in Nigeria.
Mr Bellingham also met representatives of the Sant'Egidio Community, whose DREAM programme has made an invaluable contribution to the fight against HIV/AIDS in Africa over the last ten years.
The Minister also gave an interview with Vatican Radio, in which he discussed the UK's priorities for Africa in the period ahead.
Published 2 July 2012