Ministers meet Belfast schoolchildren
Minister of State Alan Duncan visits schoolchildren in Northern Ireland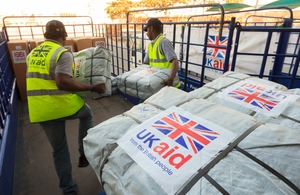 Children from two Belfast primary schools today took the chance to show two government ministers their work with their counterparts in the developing world.
The pupils from Holy Family Primary School and Hazlewood Primary School showed International Development Minister Alan Duncan and Northern Ireland Minister of State Hugo Swire projects they have been working on as part of a school linking programme with children in Uganda and Sri Lanka.
They then took the chance to quiz Alan Duncan on the UK Government's commitment to get 9 million primary age children from the world's poorest countries into school over the next five years.
Alan Duncan, Minister of State for International Development, said:
"I was extremely impressed with the hard work and commitment shown by the children of Holy Family and Hazlewood to their projects. Their knowledge and enthusiasm really stood out when we were discussing their friendships with their peers in Uganda and Sri Lanka.
"We enjoyed a lively debate about how the UK Government can help some of the 67 million primary age children not in education in the developing world.
"They were encouraged to learn that over the next five years the UK Government will help 9 million of the poorest children in the world into primary school - 50 times the entire primary school population of Northern Ireland."
The Global Schools Partnership scheme is funded by the UK Government and managed by the British Council and supports twinning arrangements between schools in the UK and schools in developing countries.
These partnerships support teachers to better teach young people about poverty in developing countries and motivate their commitment to a fairer, more sustainable world.
On top of the commitment to get 5 million children into primary school by 2015, UK aid will also help train more than 190,000 teachers and increase the UK Government's focus on educating girls in conflict and fragile states.
Published 15 September 2011