Press release
Ministers make joint case for ambitious & immediate EU low carbon action
EU climate change Ministers set their vision for a low carbon economy at the European Green Growth Summit in Brussels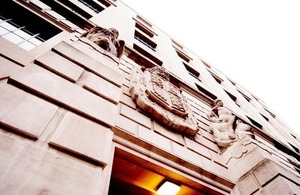 Today, European Cabinet Ministers responsible for Energy and climate change have gathered in Brussels for the European Green Growth Summit in order to set their vision for a low carbon economy.
UK Energy and Climate Change Secretary, Edward Davey, who has been instrumental in establishing the Ministerial Green Growth Group said:
Thirteen EU countries and dozens of business leaders have come together to deliver a simple message - only by acting together and by showing leadership can we deliver the significant economic benefits that we have today shown is possible in tackling climate change.

Businesses and investors are telling us that the EU needs to get its act together and that we need to urgently agree a 2030 Climate and Energy Framework and reform the EU ETS. Only then will investors have the confidence to put the billions into low carbon that we need.

The consequences of inaction are clear. The stakes are high, if we do not act, we could all lose out in the low carbon race.
Through the Green Growth Group, European ministers have set out a clear vision for a low carbon future calling for three urgent EU priority actions:
Agree an ambitious EU 2030 Energy and Climate Policy Framework;
Reform the Structure of the EU's Emissions Trading System;
Ensure the EU is in a position to put an ambitious emissions reduction offer on the table at the Ban Ki-Moon-hosted World Leader's Climate Summit in autumn 2014.
The move by the Green Growth Group has been welcomed by UNFCCC Secretary General Christiana Figueres, Commissioner Hedegaard, EU business leaders, investors and experts.
Christiana Figueres, Executive Secretary, UNFCCC, greeted the initiative by saying:
I applaud the call by these countries and businesses for ambitious policy that sets the EU firmly on a course towards low-carbon green growth.

Implementing clear policy frameworks that incentivize low-carbon, price carbon and lay the groundwork for emission reduction commitments in 2014 are the greatest contributions governments can make towards the new, universal 2015 climate agreement currently under design.

Forward thinking businesses clearly have an interest in supporting political action toward low-carbon which will allow them to thrive in the coming green economy. This is the type of leadership we need to give the world our best chance of meeting the climate challenge.
Connie Hedegaard, EU Commissioner for Climate Action, welcomed the initiative by saying:
Europe is the living proof that there is no contradiction between being green and growing the economy. Actually it is interesting that some of our greenest member states in Europe also are among those with the most solid economies.

The more European businesses and member states work together to understand that the growth of the 21st century must be green, the better. It is in Europe's core economic interest to become more energy and resource efficient, and less dependent on imported fossil fuels. This is why the Commission is now finalising its proposal for 2030 climate and energy targets.

We count on members states, businesses and investors to help exploit the big economic opportunities of the low-carbon transformation
Commenting, Philippe Joubert, Chair of the Prince of Wales EU Corporate Leaders Group applauded the initiative:
The business leaders that are part of the EU Corporate Leaders Group warmly welcome this call for joint action by Ministers. As business leaders we know that success in meeting our 2030 targets will only come if we develop a sound case on the economic benefits of decarbonisation sustained by long term stable ambitious policies.

This summit is the first step in an on-going process that seeks to indicate the real cost of inaction while also showing the benefits of a low carbon economy in creating jobs, increased innovation and competitiveness.
Philippe Zaouati, Deputy CEO, Natixis Asset Management, Chair Investment Leaders Group. Said:
Financing is clearly critical to the transition to a low carbon economy. Europe needs huge investments in low carbon energy, low carbon infrastructure, energy efficiency, smart grids, and wind and solar electricity generation. We need to provide capital to companies offering innovative contributions to sustainable development.

The private sector is willing and able, but needs clear and consistent public policies pointing in the same direction. Every new regulation concerning investment should incorporate stringent provisions favoring low carbon and taking into account environmental and social impact, rather than business as usual.

This should apply to long term investment fund regulations as well as to regulation of financial benchmarks. Investors, ministers and industry must come together and agree on doable priorities to make a low carbon economy a reality.
Thomas Reynaert, President UTIO, United Technologies said:
We look forward to working with the Green Growth Group of Ministers on the economic benefits of energy efficiency and decarbonisation. Energy efficiency in the building sector must be a key priority for EU climate and energy policy.

Buildings account for 40 percent of the EU's primary energy demand. Deep renovation can cut this by 80 percent, saving Europe over 30 percent of its total energy use. At United Technologies we are excited about providing the solutions and doing our part to help reach that target.
Samuel Leupold, CEO, DONG Energy Wind Power commented:
DONG Energy is among the leaders in transforming from black to green energy. We plan to invest 1-2 bEUR annually in offshore wind power towards 2020 and significantly reduce costs to make offshore wind competitive with conventional energy technologies.

The current EU energy policy framework has been the foundation for industrialising and maturing offshore wind until now. To continue this journey, it will be essential that European policy makers take a long term perspective and make the critical decisions for a robust policy framework towards 2030.
Laurence Tubiana, Director of Institute for Sustainable Development and International Relations (IDDRI), the influential Paris-based Research Institute, said:
Energy is too important for the future of Europe to be left on the side lines. We need to exit the crisis in the right direction. A strong 2030 energy and climate package is a pillar of European reform. And it is crucial to negotiating a successful outcome internationally in 2015.
Notes to Editors:
The Joint Pamphlet – Going for Green Growth:
The 40-page publication, signed by the thirteen Ministers and entitled Going for Green Growth: The case for ambitious and immediate EU low carbon action, brings together recent expert evidence and analysis from credible, independent and international sources into single document covering:
The latest scientific evidence of man-made climate change and its impacts on the EU economy and society;
Barriers to urgently needed European low carbon energy investments, especially the lack of long-term EU level policy certainty and weak investment signals from the EU ETS;
The risk to Europe's energy security if we delay and the opportunities in reversing the EU's rapidly growing dependency on fossil fuel imports from increasingly risky or unstable parts of the world;
The economics of decarbonisation and why it is essential not to delay decisions and ambitious action;
The potential to protect and strengthen our competitiveness through a reformed EU ETS, energy efficiency and targeted support to those industries that genuinely need based on sound analysis of carbon leakage risks;
The opportunities to substantially lower decarbonisation costs through integrating energy markets, boosting competition, expanding carbon trading and reforming the EU ETS;
The opportunities from the dramatic growth in the global low carbon economy in recent years and the challenges of increasing international low carbon business competition;
The jobs, growth and wider health and other co-benefits from ambitious low carbon action.
Read Going for Green Growth: The case for ambitious and immediate EU low carbon action on the DECC website.
Analysis of EU 2030 greenhouse gas emission reduction target options, which summarises new DECC analysis of different models of international equitable burden-shares in greenhouse gas emission reduction in a global climate agreement consistent with a two degree climate goal, and will be presented at the Green Growth Summit, can also be found on the DECC website
The Green Growth Group (GGG):
The GGG is an informal grouping of like-minded energy, environment and climate Ministers from across 13 EU Member States who have come together to work towards an pro-growth and pro-climate EU agenda. The group meets regularly, typically around Environment Councils to (i) discuss and coordinate positions on EU low carbon matters and (ii) seek to promote, with businesses and investors, an ambitious EU decarbonisation growth agenda.
To date, the Ministerial GGG has worked very closely on a number of areas, including:
Coordinated and sustained efforts to secure a successful second vote of the European Parliament on the EU ETS backloading dossier and to accelerate the process through the Council;
To push the Commission to accelerate the process of further reforming the EU ETS (for example, Annex A includes a GGG joint statement on ETS reform);
To secure positive text in the May European Council Conclusions so that the 2030 Energy and Climate package will be discussed by Heads of State and Government at the March 2014 European Council.
The members of the Ministerial GGG are:
Rt Hon Edward Davey MP, Energy and Climate Secretary, UNITED KINGDOM
Minister Peter Altmaier, Federal Ministry for the Environment, Nature Conservation & Nuclear Safety, GERMANY
Minister Philippe Martin, Minister for Ecology, Sustainable Development and Energy, FRANCE
Andrea Orlando, Minister of the Environment and Protection of Land and Sea, ITALY
Mr Miguel Arias Cañete, Minister of Agriculture, Food & the Environment, SPAIN
Mrs Wilma Mansfeld, Minister for the Environment, NETHERLANDS
Jorge Morreira Da Silva, Minister of Environment, Spatial Planning and Energy, PORTUGAL
Melchior Wathelet, Secretary of State for the Environment, BELGIUM
Martin Lidegaard, Energy, Climate and Buildings Minister, DENMARK
Lena Ek, Minister for the Environment, SWEDEN
Ville Niinistö, Minister of the Environment, FINLAND
Dejan Zidan, Deputy Prime Minister and Minister of Agriculture and Environment, SLOVENIA
Keit Pentus-Rosimannus, Environment Minister, ESTONIA
EU 2030 climate and Energy Framework:
Critical decisions on the EU's climate and energy framework are expected between now and March 2014. The European Commission is expected to produce a 2030 White Paper around the turn of the year, to be discussed by national leaders in March 2014, and is also considering bringing forward new ETS reform legislation alongside it to begin to fully repair the system following the dramatic slump in the ETS carbon price in recent years.
Decisions over the 2030 package will also provide the basis for the EU's potential emission reduction offer at the Ban Ki-Moon-hosted World Leader's Climate Summit in autumn 2014. In September this year, the UN General-Secretary called on world leaders to bring forward ambitious emission reduction offers the Summit. The 2014 Summit is a crucial building block on the path to the UNFCCC meeting in late 2015, expected to be hosted in Paris, at which the world will discuss a new post-2020 global climate agreement.
While the EU 2030 Energy and Climate Change Package and EU ETS reform, are a priority focus for the Ministerial GGG, the group will look to work together on many other future matters including the agenda of the next Commission, individual dossiers in the next Commission and to build momentum up to the discussions over a post-2020 global climate deal at the UNFCCC meeting in Paris in 2015.
The European Green Growth Summit and The Green Growth Platform:
The Summit will run from 10.30am to 5pm, in the European Parliament, and is designed to be the first in a series of collaborative efforts at the EU level between senior politicians, business leaders, investors and experts to explore, promote and pursue an ambitious, growth-enhancing and cost-effective EU decarbonisation strategy. The Summit involves a number of short keynote speeches, high-level panel discussions.
The Summit can be followed on the following Twitter address: #EuroGreenGrowth.
The Ministerial GGG has also agreed to make it a priority of their collective work to engage much more closely with businesses and investors in particular as well as MEPs, economists and wider civil society. Work is underway, with the close support of the EU Corporate Leaders Group on Climate Change, to build a forum and network through which these efforts can be pursued. The objective is to, over time, establish a standing infrastructure around which a Green Growth Platform can operate regularly bringing together senior politicians, businesses and investors and wider civil society in order to explore, promote and pursue an ambitious EU decarbonisation and growth agenda.
Published 28 October 2013