Ministers give green light to the Humber and Lincolnshire's plans for growth
A new local enterprise partnership to drive growth across the Humber area was given the green light by Decentralisation Minister Greg Clark …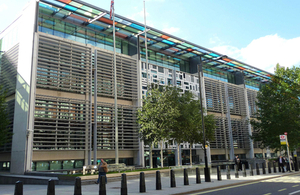 A new local enterprise partnership to drive growth across the Humber area was given the green light by Decentralisation Minister Greg Clark and Business Minister Mark Prisk today.
It was also announced that the Government has endorsed the proposal for North East Lincolnshire to be a member of the Greater Lincolnshire local enterprise partnership. This means that North East Lincolnshire will be able to play a full role in both the Humber and Greater Lincolnshire partnerships.
The Government has moved quickly to recognise the Humber local enterprise partnership proposal, submitted last week, so that they can drive forward their economic ambitions.
Mr Clark visited local business and civic leaders last month at the Chamber of Commerce in Hull to hear about their plans for a pan-Humber partnership for growth. The Humber local enterprise partnership will focus on strategic opportunities for growth around ports and logistics, chemicals, international trade, strategic transport, infrastructure and innovation.
The final proposal outlines a vision for the Humber area to become a national and international centre for renewable energy and aims to create upwards of 20,000 jobs in this emerging sector.
There are now 35 local enterprise partnerships across the country covering over 96 per cent of England's population, 1.9 million businesses and 22 million employees. These partnerships bring local business and council leaders together to determine the economic priorities for their areas.
Mr Clark said:
I'm delighted to announce that we are approving the Humber Local Enterprise Partnership today. This partnership has the ambition, ideas and business involvement to really exploit the potential for growth across the Humber area. 

I have taken a close interest in this local enterprise partnership and the potential it has to positively shape the future of the Humber local economy. Local business and civic leaders in the Humber area are now poised to realise major opportunities for economic development in renewable energy, ports, logistics and chemicals. They should now move swiftly to appoint their business led board and make their plans for a growth a reality.
Mr Prisk added:
It's excellent news that we are able to approve the proposal for a local enterprise partnership in the Humber, after months of negotiations between the interested parties.

With the Regional Growth Fund and the Enterprise Zones both open for bids, now is the time for local enterprise partnerships to seize the opportunities to bring significant investment to their areas. This partnership will have the best interests of the area at its heart, and I want all local communities to benefit from the knowledge and expertise of the private sector and the opportunities that growth brings.
Twitter
Keep up to date with the Department by following us on Twitter (external link).
Media enquiries
Visit our newsroom contacts page for media enquiry contact details.
Published 8 June 2011