Press release
Ministers call on public sector to open doors to apprentices
Government launching consultation on commitment to make 2.3% of workers in large public sector bodies apprentices.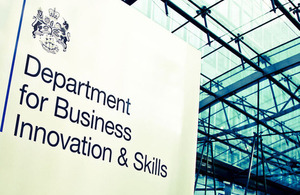 A resounding call was today (25 January 2016) heard throughout the corridors of Whitehall and local government offices as plans to make public sector employers take on more apprentices were announced today by Skills Minister Nick Boles, in a consultation on new measures to ensure apprentices make up more than 2.3% of the workforce in public bodies in England.
The changes will ensure that the public sector follows the lead of the country's leading businesses and offers more life changing opportunities to young people.
This will create thousands more apprenticeships in every part of the public sector, from the Civil Service to the NHS to the police, creating even more opportunities for young people to work hard and get on.
A Civil Service wide apprenticeship fast-track scheme is already a real alternative to university for school leavers and non-graduates, while the British Army has recently celebrated its 80,000th apprentice. Ministers are determined to build on this success, by ensuring the whole public sector now does its fair share to provide opportunities for young people.
Skills Minister Nick Boles said:
Our apprenticeships revolution has already given 2.4 million people the chance to learn the skills they need to get on in life, with businesses leading the way.

Now it's time for the public sector to step up and give those same opportunities as we turbo charge our drive to give youngsters the best start to working life.
The private sector is currently leading the way in training and hiring apprentices, with apprenticeships in private business available in more than 1,500 job roles from accountancy to butchery to engineering.
The target will mean a minimum of 2.3% of workers starting each year in larger public sector bodies in England will need to be apprentices. The new duty, which will be part of the Enterprise Bill, will apply to public sector bodies with 250 or more employees in England and is set to be brought in later in the year.
Minsters said that to meet the target of 3 million apprenticeship starts by 2020, the public sector needs to improve as it currently delivers fewer apprenticeships than the private sector.
The changes were first outlined by the Prime Minister in the government's plan to create 3 million apprenticeships by 2020, Apprenticeships in England: vision for 2020.
Notes to editors
To share your views on the measures visit the consultation at: www.gov.uk/government/consultations/public-sector-apprenticeship-targets.
Based on latest headcounts 16 of 24 ministerial departments would be covered by the duty as they have 250 or more headcount in England.
Apprenticeship policy is a devolved matter and the duty therefore applies to England only. Where public bodies operate across the UK (or internationally), the target will be set as a certain proportion of their England-based workforce, based on the primary work location of each employee.
Published 25 January 2016