Ministerial statement on the Democratic Republic of Congo elections
Foreign Office Minister Henry Bellingham speaks following the release of the EU Election Observer Mission's report on this week's elections in the Democratic Republic of Congo.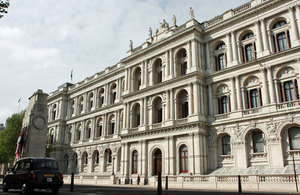 Foreign Office Minister for Africa, Henry Bellingham said:
"I am pleased that the initial reports from international election observers in the Democratic Republic of Congo show that that there was a good turnout in the elections, and the great majority of Congolese voters were able to exercise their democratic rights peacefully.
"However, I am concerned by the reports of irregularities before polling day, the problems faced by some voters at the polls, and that logistical challenges meant that voting could not start on time in a number of places. It is vital that the relevant DRC authorities investigate and resolve all reported irregularities promptly and fairly, and identify lessons learned for future elections.
"I was concerned by the unrest in the run up to the elections, and was saddened to hear of that there were a number of casualties both before and on polling day. Violence has no place in a democratic process. All parties and their supporters should wait peacefully for the results. Any challenges to those results should be conducted through the proper channels, not through further disturbances."
Published 1 December 2011