Press release
Minister welcomes resumption of Colombian peace talks
After yesterday's announcement of renewed peace talks, the UK has expressed its support for their progress.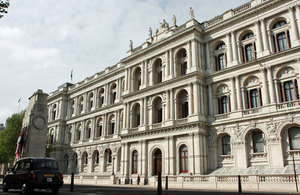 The Colombian government and the FARC have agreed to resume discussions in Havana on 10 December, and have made a commitment to agree ways to de-escalate the ongoing conflict.
President Santos suspended the peace process negotiations following the kidnap of Brigadier-General Ruben Alzate and two others on 16 November. All three were released on 30 November.
Foreign Office Minister Hugo Swire said:
"I warmly welcome the announcement of a resumption of peace talks in Colombia, including the agreement to urgently consider ways to de-escalate the conflict. The UK strongly supports the negotiations as a way to bring to an end the terrible history of conflict and violence in Colombia."
Further information
Published 4 December 2014