Minister welcomes progress in Lithuania on compensation for seized Jewish properties
Minister for Europe David Lidington has welcomed the approval of the first stage of a draft law which is going through the Lithuanian parliament to give financial compensation to the Jewish communities.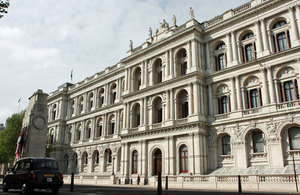 90% of Lithuania's Jews were murdered in the Holocaust in World War II, and the settlement of property that was taken from Jews in Lithuania has been an outstanding issue for many years. Some local Jewish communities have received back places of worship, but many other properties belonging to Jewish communities before the war have not been returned.
The Minister for Europe expressed support for the passage of the law in his meetings at the Foreign Ministry and Parliament when he visited Lithuania in early September.
Speaking after the draft law passed its first reading in the Lithuanian Seimas (Parliament), he said:
"I very much welcome the vote in the Seimas approving the first reading of the draft Law concerning compensation for expropriated Jewish property.
It is particularly heartening to learn that the vote on the Government draft was supported by members of different political parties. The British Government is following this matter with interest and very much respects and appreciates the desire of Lithuanian legislators to achieve a satisfactory outcome to a problem left over from history.
Passage of the Law will bring credit to Lithuania as it prepares to assume the Chairmanship of the Organization for Security and Co-operation in Europe (OSCE). I hope that the draft will now advance successfully through its remaining stages."
It is the first draft to reach the stage of Parliamentary consideration. Proceeds from the compensation are intended to be used to benefit members of Lithuania's small Jewish community of around 5000 people, and Holocaust survivors. After the First Reading the draft law must pass the Committee stage and further plenary proceedings and votes before being sent to the President for signature.
Published 10 November 2010