Minister welcomes Israel's Deputy Foreign Minister to London
Minister for the Middle East Alistair Burt met Israel's Deputy Foreign Minister Danny Ayalon in London today following their discussions in Jerusalem last week.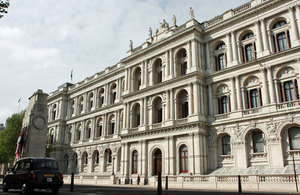 Speaking after the meeting, Alistair Burt said:
"I am delighted to welcome Danny Ayalon once more to London. We discussed ways to further strengthen relations between the UK and Israel, including our rapidly increasing bilateral trade and the growing bilateral co-operation on hi-tech and science.
"I updated him on the visit to London of Palestinian President Abbas on 15-16 January and encouraged the Israelis to also show political courage and take bold steps to ensure the success of the talks currently taking place in Amman. I reiterated our belief that events in the Middle East and North Africa have given even more urgency to achieving a two-state solution. We agreed on the need for a comprehensive peace which allowed all peoples in the region to live in peace and security. I also raised concerns relating to Palestinian children in Israeli detention, and the need for further relaxation of Israeli restrictions on Gaza.
"We also discussed again the importance of building peaceful pressure on Iran to address the international community's clear and united concerns about its nuclear programme. I set out the state of negotiations in Brussels and the UK's expectation that the EU will agree wide ranging sanctions, including on the oil sector, on 23 January. This will send yet another clear message to Iran, that it must change course and engage on the nuclear issue without preconditions. The E3+3's invitation to Iran to engage constructively still stands, as does the offer we made at Istanbul in 2011. I hope that Iran will take this opportunity to do so, but until it does the pressure from the international community will only intensify."
Published 18 January 2012