Minister welcomes appointment to Guatemala commission
Jeremy Browne, Foreign Office Minister for Latin America, has welcomed the appointment of Mr Francisco Dall'Anese Ruiz, as Head of the International Commission Against Impunity in Guatemala.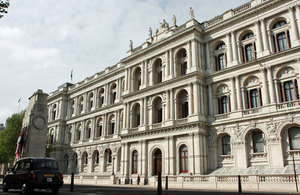 Speaking today, Jeremy Browne said:
"I congratulate Mr Dall'Anese on his appointment as head of CICIG.
The crime levels, violence and impunity problems faced by the people and government of Guatemala are grave, and the challenges ahead for Mr Dall'Anese and CICIG are significant. But since 2008 CICIG has helped build the foundations for tackling these problems, and importantly, has built hope that positive change can be achieved.
The UK remains firm in its support for the work of CICIG and its new head.
I urge the Government of Guatemala to restate their commitment to CICIG, to engage fully with Mr Dall'Anese, and support the ongoing work of the CICIG team, including by making the necessary legal reforms required to tackle impunity in the country, and to bring Guatemalan citizens a brighter future."
Costa Rican Attorney General Francisco Dall'Anese Ruiz was appointed by UN Secretary General Ban Ki-moon on 30 June to succeed Carlos Castresana. Dr Castresana announced his resignation on 7 June.
Published 2 July 2010