Minister urges public to be part of the solution to rough sleeping this Christmas
Housing Minister Grant Shapps has urged people across the country to help solve rough sleeping this Christmas by calling local hotlines if they…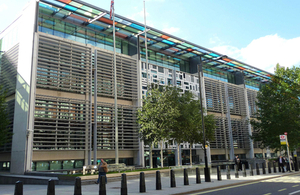 Housing Minister Grant Shapps has urged people across the country to help solve rough sleeping this Christmas by calling local hotlines if they see someone sleeping on the pavement in their neighbourhood.
The Minister for Housing slept rough himself in 2007 in order to highlight the plight of rough sleepers and recalling his night on the street he said:
In a civilised society no one should have to sleep on the pavement.
He acknowledged that factors like relationship breakdown can lead to sudden homelessness, but said that the Government is committed to its recently launched No Second Night Out policy.
Now the Minister has appealed to the public to help rough sleepers by calling one of the 24-hour hotlines to bring urgent assistance to rough sleepers.
For the first time, a complete list of these hotline numbers will be available on the Communities website, the Minister announced as he visited Emmaus in St Albans - a project where formerly homeless residents work to restore second-hand furniture and get their lives back on track.
He also announced his New Year's resolution - to establish a new national single phone number which will provide a central point of contact for people across the country to get help for rough sleepers in their neighbourhood.
Based on London's No Second Night Out number, introduced by the Mayor, this new phone line and website will ensure anyone wanting to get help for rough sleepers in their area will know where to go and who to call.
Housing Minister Grant Shapps said:
Christmas is a time for Goodwill, and with winter rapidly approaching, it's more important than ever to ensure that help and shelter are available for those who need it most.

We have some of the strongest homelessness protection in the world and councils have a responsibility to ensure that their residents aren't 'roofless' in their area, so I'm calling on members of the public to help them achieve this.

It is my New Year's resolution to ensure that a national 'No Second Night Out' hotline is in place by next Christmas, but there are already many local homelessness hotlines available, from Nottingham to Norwich. These numbers are now posted in one place on the Communities website. So my message is simple: if you see someone sleeping rough, please bring them the gift of shelter this Christmas.
Unsupported embedding or hotlinking !iframe:
View Homelessness help in a larger map
1. Key numbers to call to get local help for homeless people are available at: www.communities.gov.uk/documents/housing/xls/2052062.xls (Excel, 70 kb).
Twitter
Keep up to date with the Department by following us on Twitter (external link).
Media enquiries
Visit our newsroom contacts page for media enquiry contact details.
Published 15 December 2011