Minister Tim Loughton writes to 'The Independent'
Letter from Minister Tim Loughton in response to an article by Yasmin Alibhai-Brown on the care system published in 'The Independent' on Monday 30 April 2012.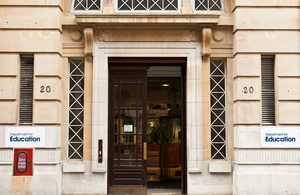 Dear Sir
Contrary to what Yasmin Alibhai-Brown suggests in her article (Monday 30 April), I am quite clear that as the Children's Minister, my first priority is to make sure Government supports vulnerable families to stay together. No one benefits if a child is taken into care incorrectly, but if a child's safety is threatened the next step must be to consider care urgently. This isn't a blame game or a numbers game - there are no targets - it is about taking the right children into the right sort of care at the right time. What is important is that the child's best interests always come first.
I make no apologies for wanting to reduce the time children are living in limbo, and give them what most of us would take for granted - the opportunity to form a loving attachment to a family. That is why we are reforming the care system. Reducing delay and providing stability must be the primary concern of social workers and local authority managers across the country. Part of this is encouraging more adopters - and foster carers - to come forward. Something I would have thought that everyone would support.
The government is constantly looking at how to improve safeguarding and social work practice. That's why my department is already working with judges, social workers, voluntary organisations, parents as well as local authorities to continue making the system better.
Tim Loughton MP
Minister for Children and Families
Published 3 May 2012