Minister supports shared ambition for growth across the Humber
Decentralisation Minister Greg Clark today met with local business and civic leaders to hear their proposal for a local enterprise partnership…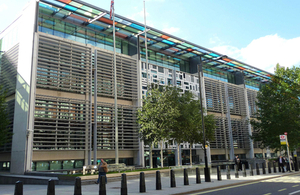 Decentralisation Minister Greg Clark today met with local business and civic leaders to hear their proposal for a local enterprise partnership to drive growth and create upwards of 20,000 jobs across the Humber.
Mr Clark met with representatives from local business representatives, the four councils (Hull, East Riding, North Lincolnshire and North East Lincs) and local MPs at the Chamber of Commerce in Hull to hear their shared plans for exploiting the area's full economic potential. These plans focus on seizing the opportunities that exist around ports and logistics, chemicals, and renewable energy.
The Government has asked local business and local councils take charge of their local economy. Over 90 per cent of the country now has a local enterprise partnership. Humber is now set to join them with the full proposal expected to be formally submitted to the government shortly.
Mr Clark said:
I've come to the Humber today to hear first hand how business leaders and local councils are taking the reins of the local economy and developing a Humber-wide approach to driving growth. They have come together with a common goal- to create an ambitious local enterprise partnership that will unlock growth and create jobs and prosperity across the whole of the Humber.

I'm impressed by the desire of all the partners to work together in the best interests of the Humber, regardless of party politics. And I'm grateful for the hard work and commitment of local business and council leaders, and local MPs, in getting everyone to this point.
Business Minister Mark Prisk added:
I want to encourage those final few areas without a local enterprise partnership to move quickly and come together so businesses and entrepreneurs in their area can start to benefit from the leadership and initiative that we want local enterprise partnerships to provide.

Already, 34 have been approved covering 94 per cent of businesses in England. They have begun working to break down the barriers to balanced, sustainable economic growth and jobs in their areas.

It's vitally important that all parts of the country work hard to address the challenges in their business communities and are able to apply for and benefit from the help we have put in place.
The Humber local enterprise partnership proposal sets out a vision for Humber to become a national and international centre for renewable energy, capitalising on its natural assets, existing expertise and potential for development.
By working together through a focused, business-led partnership the partnership is aiming to create upwards of 20,000 jobs in this emerging sector in some of the most deprived parts of the country.
Twitter
Keep up to date with the Department by following us on Twitter (external link).
Media enquiries
Visit our newsroom contacts page for media enquiry contact details.
Published 27 May 2011