Minister speaks about UN day for victims of torture
Minister of State Jeremy Browne has spoken about the United Nations International Day in Support of Victims of Torture.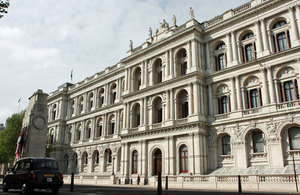 The United Nations International Day has been observed, including by the UK, since 1998. The 26 June marks the 1987 anniversary of the UN Convention Against Torture coming into force.
Speaking today Minister Jeremy Browne said:
"There is an absolute prohibition on torture in international law. The Coalition Government has been categorical - we will never condone the use of torture.
On today, the International Day in Support of Victims of Torture, I urge all states who have not yet done so, to sign, ratify and implement both the UN Convention Against Torture and its Optional Protocol.
The UK will continue to support international action against torture through bilateral lobbying campaigns and multilateral engagement in the EU and UN, as well as through practical support to prison reform and torture prevention work."
Prevention and prohibition of torture is a key human rights priority for the UK at the UN. The UK regularly co sponsors resolutions calling for an end to torture in both the General Assembly and the Human Rights Council.
Search the news archive
Published 26 June 2010