News story
Minister sets the record straight on UK Visa system
Immigration Minister Mark Harper speaks to tourism and retail groups about the 'excellent visa service' for Chinese visitors by the UK.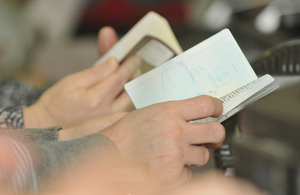 Mark Harper, Minister for Immigration, addressed key tourism and retail groups today to debunk myths about the UK's visa service in China.
He outlined the excellent service already being provided as well as the significant improvements that have been made to ensure visa process for Chinese visitors is even quicker and easier. These include the extension of the popular five day priority visa service and a new passport pass-back service which allows customers to keep their passports whilst their visa is being processed.
Visas
Mark Harper said:
China is a priority market for the UK and we have already made a number of improvements to the service we offer to legitimate Chinese visitors.

The figures show that the UK gets its fair share of visitors, however we are ambitious to continue to improve our world class visa service and attract even more visitors to Britain.
China
In China 96% of applicants get a visa and the vast majority are processed within 15 days. Chinese visitor numbers to the UK are at a record high and out 27 possible EU countries, up to one fifth of Chinese visitors choose the UK.
For business travellers a VIP mobile visa service has been introduced where applicants can apply for their visa and provide their biometric information to a visa officer who comes to their place of work. In the future the online application forms and guidance will be translated into Chinese to make our visa process even more accessible.
Published 15 May 2013