Minister responds to Telegraph on military in schools
Nick Gibb responds to a Telegraph comment piece on the benefit of cadet force units within schools.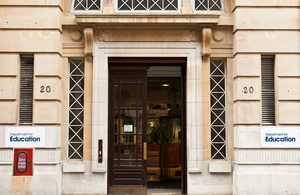 Sir
The Coalition Government has already recognised the benefits that the Armed Forces ethos can have in education (Why the military must invade our schools, Telegraph, Comment, July 10).
The values of our Servicemen and women - their belief in self discipline, in teamwork, above all in trying to get the best out of those with whom they work - are exactly those we need to instil in the next generation of young people.
Our work with the charity SkillForce means an extra 100 ex-service personnel are already making a valuable contribution as mentors for young people in challenging schools and communities across England.
We will help service leavers, with the potential to become great teachers, to make the transition to the classroom through the Troops to Teachers programme.
Many independent schools have long benefitted from cadet forces. That is why we have committed to 100 more units by 2015 across the state school sector. More young people from some of the most disadvantaged communities will now benefit from the cadet experience, developing them into well-rounded, accomplished adults.
Yours sincerely
Nick Gibb MP
Schools Minister
Published 17 July 2012