Press release
Minister praises school for on-site nursery during visit
Willow Bank Primary School has benefited from its partnership with Toddles Wood Pre-School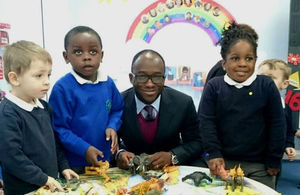 Toddlers benefiting from a Thamesmead pre-school operating from Willow Bank Primary School were visited by the Childcare Minister this morning (22 January 2015).
Minister Sam Gyimah spent the morning at Toddles Wood Pre-School, which offers full-day care. The provision has worked in partnership with Willow Bank Primary School since 2012.
The childcare help on offer to parents starts from the earliest stage thanks to on-site midwifery provision. Many of the children attending the pre-school go on to join Willow Bank Primary School when they reach statutory school age.
Willow Bank Primary School worked in partnership with Bexley Borough to provide a new purpose-built building in which to base Toddles Wood Pre-School and NHS midwifery services.
The new building opened in September 2014 and now provides sessions for a total of 90 2-, 3- and 4-year-olds.
The government is committed to ensuring that all families, wherever they live, have access to high-quality, flexible and affordable childcare. Since September 2013 all 3- and 4-year-olds and some 2-year-olds across England have been entitled to 15 hours of funded early education per week.
Childcare Minister Sam Gyimah said:
It was fantastic to meet young children who are blossoming in the Toddles Wood Pre-School. Young children really benefit from good-quality early years education.

Children who get it go on to be better equipped to join school, so adding nursery provision helps schools in the long run.

No child should start school behind their peers. This is why as part of our plan for education we are committed to providing flexible, affordable and good-quality childcare, giving parents more choice about where they send their children.
There are 27 2-year-old children at Toddles Wood Pre-School, of which 23 receive 15 hours of free childcare through the government's 2-year-old offer, All 46 3-year-olds and 17 4-year-olds receive 15 hours of free childcare from the government.
Although any primary school nursery is eligible for the funding, currently only 1% of funded 2-year-old places are delivered within a primary school setting.
The minister was shown around the pre-school by Angela Barry, Executive Headteacher of the Woodland Academy Trust, accompanied by Jo Hayward, Headteacher of Willow Bank.
Angela Barry said:
Thanks to the midwifery, pre-school and primary school, we are involved in families' lives from pre-birth until their child is 11.

That joined-up approach has received really positive feedback from parents and we think that this is the way forward.
Notes to editors
Toddles Wood Pre-School is one of 3 pre-schools operating within the Woodland Academy Trust. Northumberland Heath Primary School works in partnership with 4Children Daycare and Peareswood Primary School works in partnership with Howbury Pre-School.
DfE enquiries
Central newsdesk 020 7783 8300
General enquiries 0370 000 2288
Published 22 January 2015