Press release
Minister praises Leeds-based FGM campaigners
Baroness Northover meets anti-female genital mutilation group The Gambia Volunteers Trust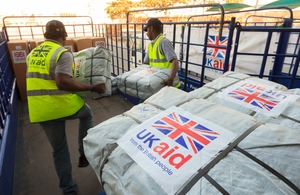 International Development Minister, Baroness Northover, met with representatives of a Leeds based anti-female genital mutilation (FGM) campaign group today to learn more about their work.
It is estimated that up to 2,600 women and girls are affected by FGM in Leeds. The Gambia Volunteers Trust supports women in the city who have undergone FGM and campaigns to raise awareness of its harmful effects.
Speaking to the volunteers Baroness Northover reiterated the British government's commitment to supporting the African-led movement to end FGM within a generation and gathered views on how to best to end the practice overseas. She was joined in the conversation by Mark Burns Williamson, the Police and Crime Commissioner for West Yorkshire and representatives from the Black Health Initiative and Peacemakers.
Baroness Northover said:
Female Genital Mutilation affects the lives of too many women and girls around the world. The UK government is committed to helping end this harmful practice within a generation, but we can only do so working closely with affected communities here in the UK. The Gambia Volunteers Trust is doing invaluable work that is improving the lives of women and girls here in Leeds.
Voluntary and community groups with links to The Gambia were recently invited by DFID to apply for grants to support their campaigns to end FGM in their countries of origin as part of a new initiative. The Gambia Volunteers Trust received £5000 of funding from the Home Office to support a FGM awareness training course for volunteers in 2014.
During her visit to Leeds, Baroness Northover also visited Adel Primary School which is part of DFID's Connecting Classroom scheme which helps incorporate international development work into the school curriculum. The school is partnered with Dumezweni Primary School in the township of Diepkloof, Soweto, South Africa.
Notes to editors
FGM is one of the most extreme manifestations of gender inequality, affecting 125 million girls and women across the world. The UK Government is committed to playing a key role in leading the international community toward seeing an end to FGM worldwide within a generation.
The Department for International Development's (DFID) has funded a 5-year £35 million programme to reduce the prevalence of FGM in 10 countries by up to 30% and contribute to an ultimate vision to end the practice in a single generation.
Published 6 March 2015